Hi Patrick,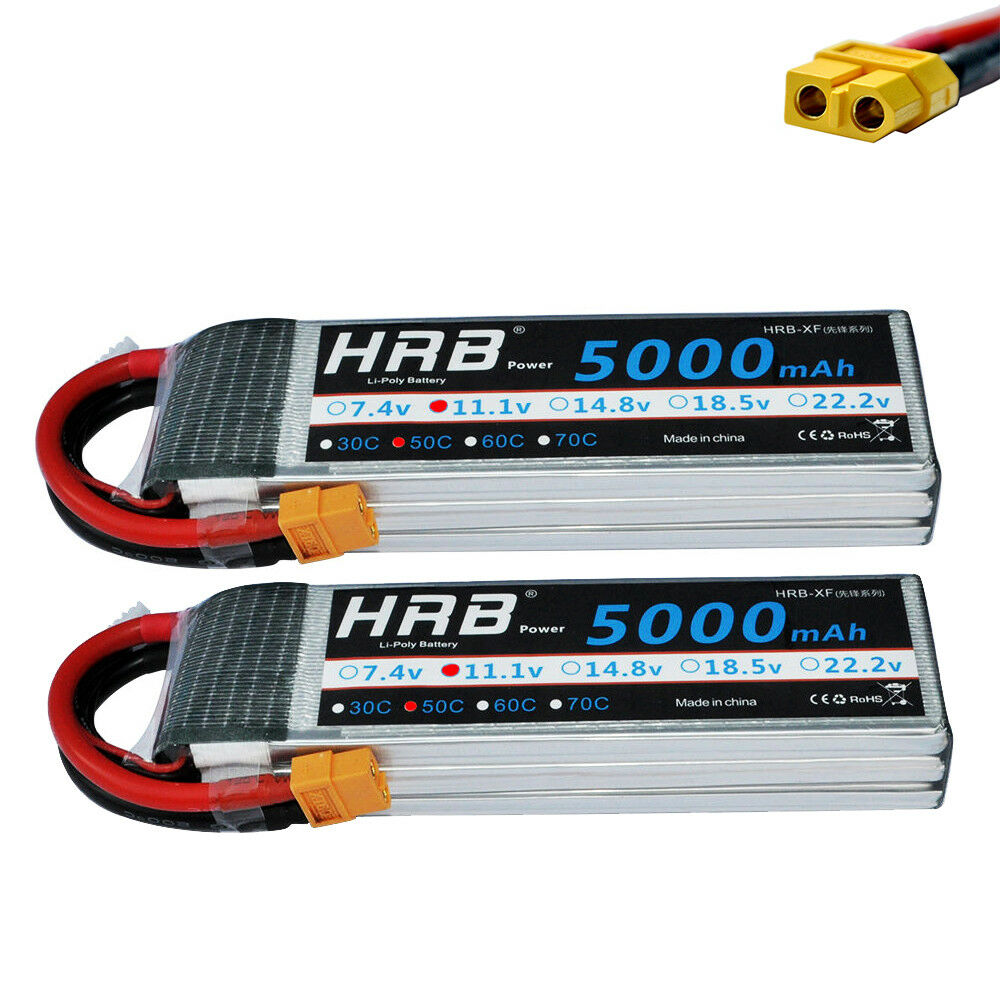 Two HRB 5000mAh, 11.1V Lipo's purchased for tests:
Ordered 20-06-19. Delivered lunch time on 22-06-19. Supplied half charge or less.
Stocked in the UK, these were advertised at £68.99 (post free) for two but at the end of the process of purchase an unexpected and previously unannounced discount was applied to make the total paid £57.26 for the two inc. postage.
Capacity Tested 23-06-19 using a headlamp bulb drawing 4.8 Amps from 12.6 Volts down to 10.6 Volt cut-off.
Results:
No1: 59 min
No2: 61min.
Satisfactory.
These results are within 5% of results for several 5Ah Turnigy's bought in the past so I deem the test above to be satisfactory. The Turnigy's have not lasted long before swelling and reducing capacity so with my luck and being the eternal pessimist, I'm expecting the same from these. Fingers crossed though. I do store at 12V unless short term and use a balancing charger of course. Also taking care not to run them below 3.6V/Cell
SPEC & Detail:
HRB LiPo Battery 11.1V 5000mAh 50C Max 100C 3S RC For RC Helicopters boats cars Li-Poly Battery
Description:
Battery Type: LiPo Battery
Volts: 11.1v
Capacity: 5000mAh
Cell Count: 3S
Continuous Discharge: 50C (250A)
Max Burst Rate: 100C (500A)
Max Volts per Cell: 4.2V
Max Volts per Pack: 12.6V
Wire Gauge: 10 AWG Soft and Flexible Low Resistance Silicone Wire
Plug Type: Amass XT60
Dimensions: 6.1 x 1.89 x 0.94in/ 155 x 48 x 24 mm (0 - 3mm difference)
Weight: 13.26 oz (376g ± 3g)
Applications: specially designed for traxxas rc cars, slash vxl, slash 4x4 vxl, e-maxx brushless, e-revo brushless and spartan models.
Caution:
Don't over-charge, or over-discharge batteries.
Don't put it beside the high temperature condition.
Don't throw it into fire.
Don't throw it into water.
Useful Knowledge:
The easiest way to determine the remaining capacity of a battery is to measure the voltage (for example 4.2V battery):
4.20V----100%
3.95V----75%
3.85V----50%
3.73V----25%
3.50V----5%
2.75V----0% (Danger!)
Never to let the voltage below 3.6V During use, or your battery will be destroyed.
Package List
2X11.1V 5000mah 50C Lipo battery
Hope this helps you decide,
73, John G4YSS
(GX0OOO/P)
…………………………………
Postscript:
SOTA on G/NP-008 last weekend 06/ 07-07-19.
I used my two new HRB 5Ah Li-Po's paralleled together for VHF-NFD and 100 Watt SOTA use. No complaints. At this early stage, they are every bit as good as other makes (or labels - perhaps they're all the same anyway) but ask me in a year or two and I'll tell you if they swelled or not!
John