Around 2007 ish, my wife's mother gave me some money for my birthday, I used the money to order a Small Wonder Labs RockMite 20 kit. I was just picking up my hobby again after a few year's break (relationship, a child etc!) and I fancied building a radio kit. I built the kit into an Altoids tin. The radio worked but it was put away in storage and largely forgotten about.
In 2011 I did an activation of Ingleborough on my birthday and I was determined to get a QSO on my RockMite. I wasn't very confident with my Morse but I did manage a contact with HA5AZC. I was over the moon! Since that day, I've tried to use my RockMite 20 each year on my birthday.
Last year I was pretty disappointed that we were in coronavirus lockdown and I wasn't able to do my usual birthday SOTA activation. I put up a dipole and operated the RockMite 20 from my shack. Conditions were awful and I ended up plugging in the TX Topper amplifier. Eventually I scored a QSO with DL7SX. At least I saved the blank! It's my mission to have a least one QSO with the RockMite on my birthday each year.
Thankfully this year the lockdown rules have allowed a SOTA activation, so I chose to activate Whernside as it's close to my QTH and it's a fine hill. I checked the WX forecast and it looked a bit daunting! Reading between the lines, the forecast seemed to show very light wind and no precipitation around dawn and then gale force winds and rain / snow creeping in towards late morning or noon.
I've always enjoyed early trips to the mountains, there's just something special about being up a hill when lots of folk are still in bed. I had agreed a plan with my wife that I would wake early and set off straight out of the house to go up Whernside, I'd open my presents and cards upon my return home later in the morning or lunchtime. I packed my bag the night before, including some snacks, so I could just grab my pack and go in the morning.
03 May 2021 Whernside G/NP-004
I left home at around 0615 BST and I reached the summit of Whernside at about 0725 BST. The WX was better than I had expected, it was very calm. The atmosphere was rather eerie but quite beautiful.
My home brew 5 band dipole went up really easy, there was no wind and I erected the antenna on first try without adjusting any pegs - that's twice I've done that in a row now!
I hooked up the RockMite 20 to my large 3S LiPo which I usually use with my FT817. The RockMite likes a solid 12v to get good power output, so I was hoping that the voltage would stay higher for longer with the larger capacity.
Mickey 2E0YYY messaged me to say that he seen my spot as I'd started calling CQ just before 0700utc, and that I was probably too early for any VK contacts- Mickey didn't know that I had only a few hundred milliwatts, I replied saying such, but that I had heard a VK station in the passband of my RockMite's wide front end.
EA7GV was first in my log, he had an excellent signal, I was feeling like I might just be able to qualify the summit. I then called and called, my straight key Morse probably putting people off! After a while, I worked OH3GZ.
At times QRM came and went and it's hard to work out if the stations you hear are calling you. I heard M5EVT call me but he didn't respond to my reply. Perseverance paid off because after a brief break, M5EVT called me again and we were able to make the contact. I was seriously thinking about quitting but I really wanted that 4th contact to qualify the hill with my RockMite 20. About five minutes later SM5LNE kindly called in and I'd done it! I'm sure none of the chasers had a clue why my signal was so rubbish and my Morse was so bad, but I'm extremely grateful to them all - you made my birthday special, thank you guys!
I celebrated with a tiny dram of whisky!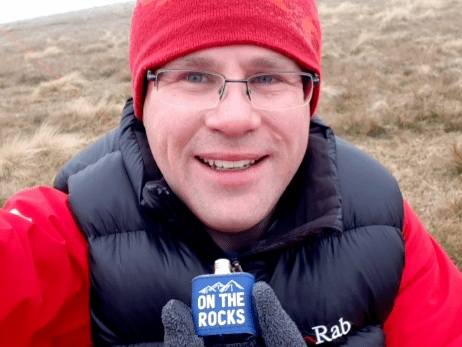 I hooked up my MTR-5B on auto CQ and I worked a handful more stations using the paddle key, but conditions seemed pretty poor. I felt the wind starting to pick up and a few spots of rain, so I packed up and headed back to my car.
I was back home for around 10am - mission accomplished!
My wife returned from shopping at lunchtime and after lunch I opened my cards and presents. The rain at that point was absolutely hammering down. We have a joke in our household that when we get ice cream, it always rains, well the weather yesterday afternoon seemed to be suggesting very strongly that a visit to the Milking Parlour in Kirkby Lonsdale was a necessity.
I had a double scoop coffee ice cream! Thankfully the queue was small in the ice cream shop - word has got out and its usual for the queue to go right along the street.
A fantastic day in all.
Until next year…
73
Colin