This morning, I passed the Chaser total of 1,000 points which means I can now formally adopt the slightly unkind (and, in my case, factually incorrect) title of "Shack Sloth". No matter, I'm pleased to have reached this mark exclusively using QRP, mainly on SSB and some on FM, ranging from 40m to 70cm, often on homebrew antennas.
It's been a joy to have made so many great contacts with splendid Activators across 21 countries so far. It is only the start, of course. Many more chases to come I hope, irrespective of the points on offer, and I'm also looking forward soon to pushing my Activator score towards MG status from its currently miniscule total of 13 points from just 7 summits this year!

I've learned that chasing with QRP requires patience, perseverance and politeness, especially where the Activator might well be dealing with gales, rain, snow, sleet, heatstroke, hypothermia, midges, sunburn, thirst, poor band conditions, fragile antennas, flat batteries, sore feet and other bodily extremities, inquisitive climbers/hillwalkers, or painfully discovering they have left their vital BNC connector in the car or their lunch at home in the kitchen

Sincere thanks to all those splendidly dedicated Activators who have repeatedly made my day by answering my calls and also a big shout-out to the SOTAwatch MT who set up and maintain this amazing online resource that makes the task of Chasers and Activators immeasurably easier than it must have been 20 years ago when SOTA began. I, for one, am very grateful. Thanks.
For now, my next QRP target is to use CW, as both Chaser and Activator. OK, so my own CW is still too poor to use on the air but I'm actively working on it - at a speed somewhat faster than a sloth …

Onward, and upward…!
73 Mike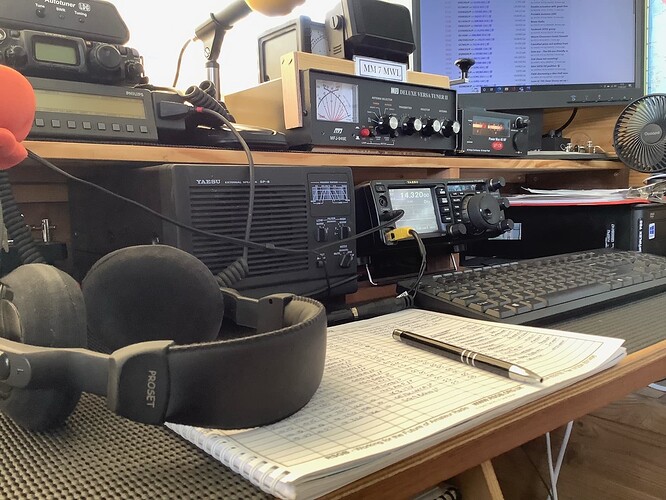 .