A beautiful fall day in New England where the drive to the trail head was as nice as the hike itself. The trees are turning and the colors are wonderful despite the drought we had during the summer months. It made a great day even better.
Massaemet Mountain in Massachusetts is an easy hike from the restaurant on Tower Road. The owners are fine with hikers parking in the lower lot. The food is good too, so you can have a big breakfast and coffee before heading out! The trail is about 1 mile (1.6km) to the stone firewatch tower at the summit. Operation is a joy when you have a choice of picnic tables!
The tower was build of local granite in 1909 and has a fun/creepy spiral staircase inside to get up to the top (Well, almost to the top, they have capped the tower with some sort of weather station and that part is locked off). There are windows at intervals where you can attach your antenna, so that's just what I did with my end-fed 58 foot random wire with 13 foot counterpoise. It's the second time out with it, and it really has been a good performer. The KX2 autotuner handles it fine up to 40 meters. That said, this looks like an ideal spot to set up a big vee-beam antenna, so I might go back to try that.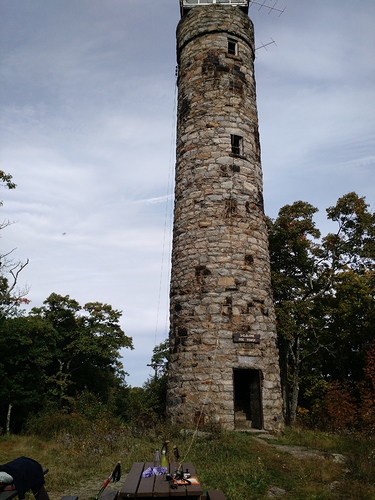 The morning started out on 40 ssb, and the contacts came thick and fast right from the start. I'd forgot that the QSO Party contest was happening and a lot of people were getting set up waiting for it to start and were happy to work me. There was a group of hams on Crag Mountain nearby (W1/CR-008) and we did a number of S2S QSOs. After SSB dried up, CW provided another half dozen solid contacts. The band started to go away a bit and then the contest started, so we regrouped and had some lunch to let things calm down.
20 meters wasn't as fruitful for some reason. It's usually my go-to band, especially after the lunch hour. Nevertheless, a few QSOs made on CW and SSB there, including a couple of DX that were both pretty tough sledding.
I'd intended to try some 2 meter DMR and/or FM on simplex, but left the HT in the car by mistake. Maybe next time.
The big highlight of the day was coming across a very large porcupine on the trail. He stared at us for a while, and when we tried to walk past, he kept walking about 10 feet ahead of us for a couple of minutes before sauntering off into the brush. Did I think to take a picture? Nope, silly me! He was photogenic too, so it was a missed opportunity. XYL had never seen one in the wild and he was an impressive specimen. You just never know what the day will bring.
If you are in the New England area and want a nice summit to activate, this is a good choice. Easy hike, nice operating position, and points of interest along the way. The view from the top of the tower is nice too.