Hi everyone,
here is a brief activation report from our trip to Arco/ Trentino. For more details, please follow the link below.
I/TN-187 - Monte Biaina (1413m) - first activation
August 27th, 2019; 10:30 – 11:20 UTC
Wx: sunny and warm
Ascent/ descent: 280m from/ to Prai da Gom (approx. 350m accumulated).
Rig: KX3 / 5W, 2200mAh LiPo (3S), Palm Pico Paddle
Ant: EFHW Dipole (40m, 30m, 20m) as inverted L on a 6m GRP Pole
4 CW QSOs on 20m
10 CW QSOs on 30m
28 CW QSOs on 40m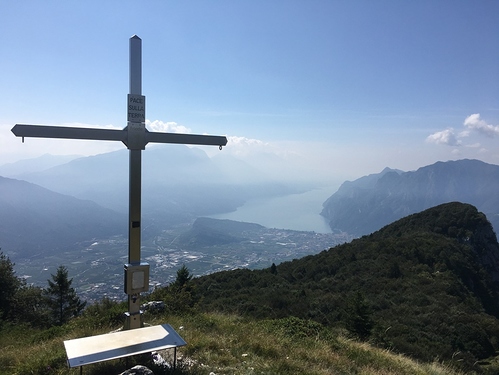 I/TN-197 - Monte Tombio (853m)
August 30th, 2019
Activation cancelled!
I might have thought something was wrong as there wasn't a single signpost to Monte Tombio on the way.
I needed three attempts to find the turnoff to the parking lot.
When I finally was on the right way, there was a massive gate that blocked the way - at about 800m above sea level, approximately 50m below the summit. Left and right was a solid fence. I followed the fence to see if it ended somewhere. But it seemed to circle the whole summit. After about midway I gave up and turned back.
Sorry if someone waited for a QSO with me!