Hi everyone,
here is my activation report of "Großer Daumen".
We started at 7:00 utc from "Schwarzenberghütte", 1380 m asl. Approx. 90 min later we reached "Engeratsgundsee".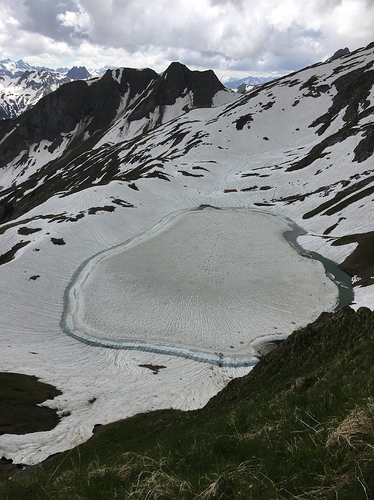 To our surprise we found much more snow than expected. After a short break we agreed that four people and four kids would return and only my friend Andreas and me went for the summit.
It took us another 90 min to reach the top (2280 m asl) It was impossible to find the track so we went straight up.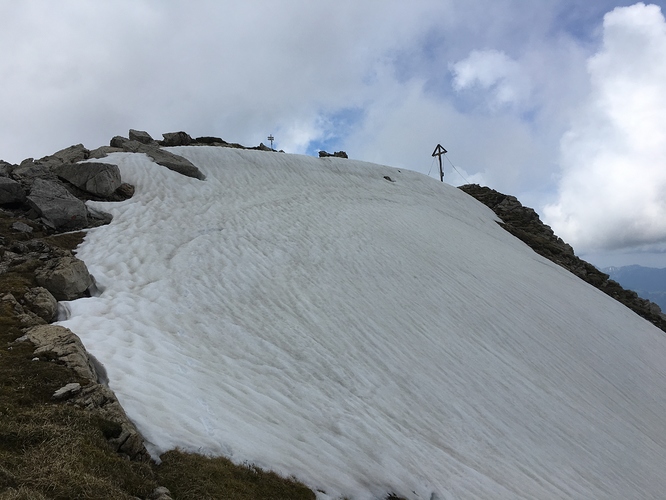 We set up the antenna and I started CQing on 20m cw. It was very strange because after Five minutes of calling I had only one QSO. On 30 m it was Even worse: 0 QSOs and on 40m a very weak station started CQing on top of me.
In the meantime a large black cloud was forming above our heads. I quickly checked antenna and coax but couldn't find a problem. So I resumed CQing on 40 cw but agreed with Andreas to pack up as soon as the rain begins. Finally I managed to log three more QSOs but it was tough going. Then we immediately took the antenna down and packed up.
Only today (when we had inernet access again) I noticed that I haven't been spotted on SOTAwatch. Probably because I was QRV more than one hour before the time I set in the alert. With my tiny signal (MTR 3B and EFHW) it seems only few people were able to find me without cluster spot.
Nevertheless it was fun and we enjoyed the trip which led us further to "Kleiner Daumen" and back to the lake before we returned to the Hut.
Thanks for the QSOs and sorry if we missed each other!
73, Roman - DL3TU