I'm a new HAM and an avid hiker, so when I got my first portable (a Wouxun VHF/UHF handheld) I decided to throw it in my pack on my afternoon and weekend excursions to take advantage of the elevation and line of sight into the tri-cities and Washington State. After a bit of playing around I learned/was informed that you could actually get points for activating certain peaks and my hikes took on a new purpose.
As it turns out it's quite easy to activate most of the GV region on VHF/UHF with only 5W and a 1/4 wave whip. The hard part is getting there. On my first official activation I hiked the Grouse Grind then made my way up to Crown Mountain, a trek of cumulative elevation gain of more than 1500m over steep, and eventually broken, terrain. It took 3.5 hours, but from the top I managed to score 9 QSOs, including a 150km contact with a Camano Island resident using only 1W of power.

(View of Vancouver looking South from Crown Summit)
I've activated 8 summits in North Vancouver now with similar results. Using the local repeaters to coordinate simplex contacts is fairly easy, depending on the time of day. I've spoken with people on boats, in their homes, commuters with mobiles, and one gentlemen riding his bicycle around Stanley Park. The 2m calling frequency (146.52) is also a great place to find contacts and 70cm is great for talking to people in Downtown Vancouver. All of this with <$100 worth of equipment and a few hours of slogging uphill.
Most of the low hanging fruit (if you can call it that) has been picked at this point, so I've been venturing further out to find summits. Mt. Elsay, a summit North of Mt. Seymour, is rarely climbed and with good reason (11 hour round trip of scree, steep boulder fields, bushwhacking, and bugs.) So when my friends and I decided to take a swing at it I brought my radio and squeezed out 4 QSOs before the fading light forced us to clear the frequency and head for home. Time will tell whether another intrepid activator makes their way up there.
Further into the Fraser Valley and Squamish-Lilooet regions to the North and East the summit approaches become even harder, and usually require mountaineering skills, pre-dawn starts, and a masochistic personality to complete successfully. For example: Mt. Judge Howay, 6 points, is a rough multi-day expedition involving boat access, 20km of logging road, a river ferry, then 2200m of vertical gain over two glaciers and 4th class scrambling. It has been 4 years since it was last climbed. Not all summits are this challenging, however, and a good many points can be attained in a day or an afternoon with only a sturdy pair of shoes and a bit of determination.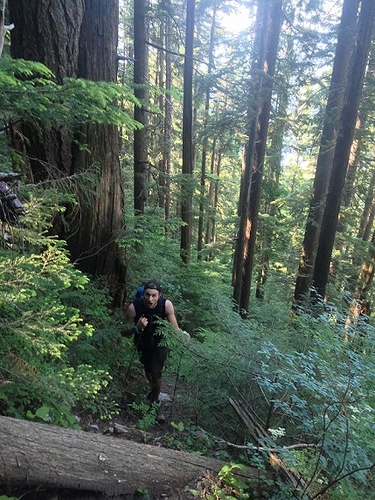 (My friend Eric on another endless uphill approach)
Despite (or indeed perhaps because) of all the available peaks in the area, the majority of them remain unactivated. In the tri-region area I've found only a single regular activator other than myself, and the VE7 association has less than 10 local participants. Often during activations I find myself having to explain what SOTA is and it's purpose to my would-be chasers, though I'm starting to encounter some regulars. I don't self-spot so I tend to rely on dedicated local HAMs who happen to be tuned in to the right frequency, and then spread the word on other bands. As I move further away from the city for these summits I will eventually need to invest in an HF rig for activations, but that's another topic. Being an avid ski mountaineer as well I can look forward to a winter full of activations and seasonal bonus points to go with them.
Greater Vancouver and VE7 in general has enormous untapped potential for some serious SOTA expeditions for a variety of activators and ability levels and I hope to hear more of them in the future.
Until then,
73's