With a bit of time this morning I decided to get out onto a local summit Gummer's How G/LD-050 to try and chase some of the Yorkshire Day activators. I re-charged my batteries from my lunchtime chase session on Saturday and took the same equipment: 3 x 4.2AH LifePo4, FT-857, SOTABeams 10m compact mast, SOTABeams Band Hopper V and Spectrum Communications SlimJ. I did consider taking the Arrow Alasakan, but this lot was heavy enough and I wanted the option to have power for HF.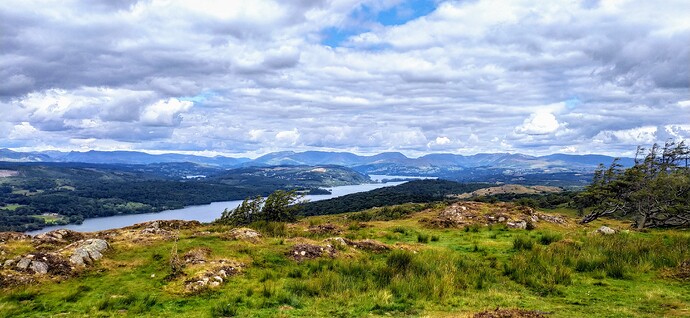 Lake Windermere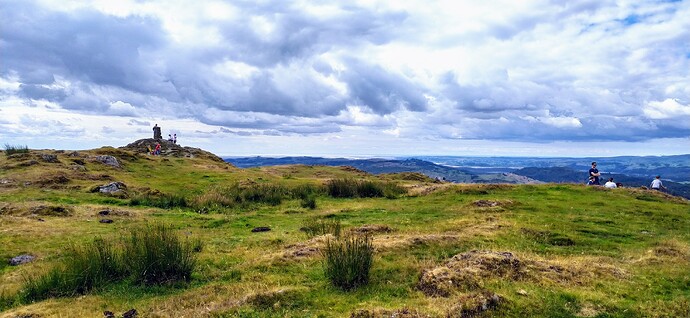 Benchmark looking South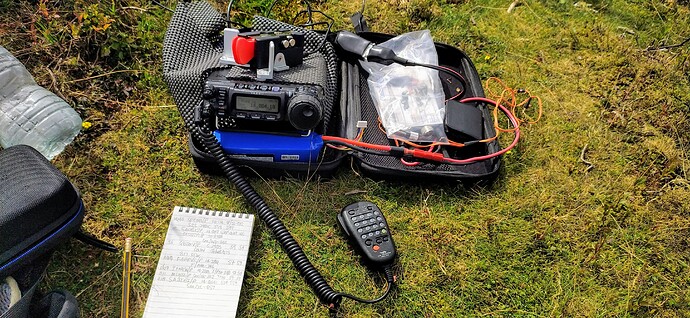 Equipment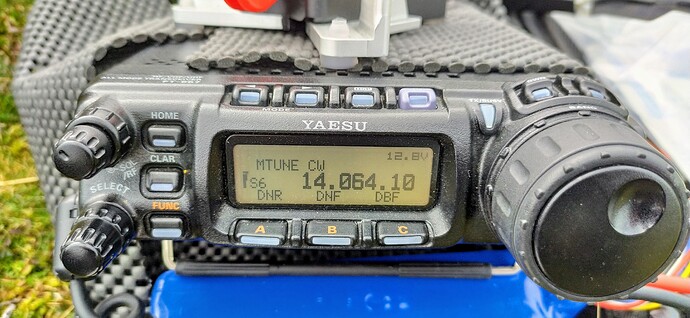 FT-857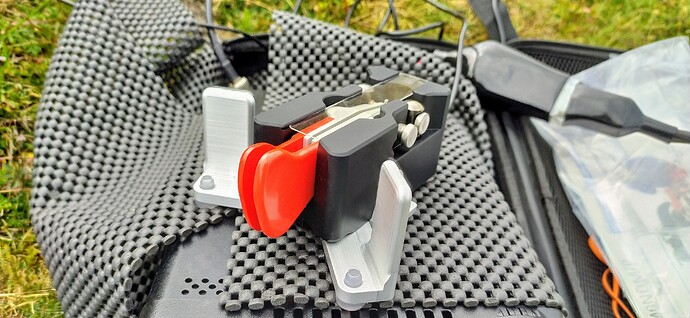 Begali Traveler Iambic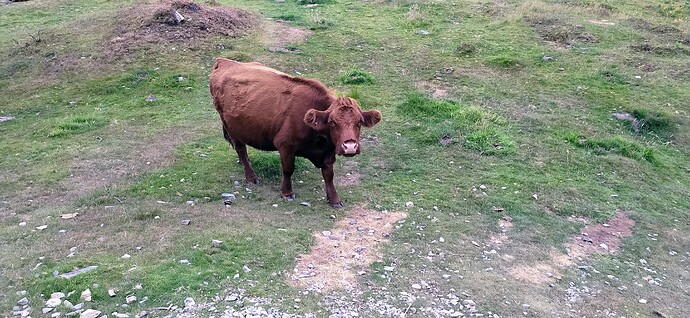 No sheep, so you'll have to make do with a cow
It's fair to say that both 2m and 20m were working well for me, 80m and 40m were more patchy. With 26 S2S SOTA, one S2S HEMA and 105 total contacts I had a wonderful time on the radio today.
@G8TMV Colin was sounding great on 60m from G/WB-015 on his FT-817/8 with speech compressor and 35 watts via mini amp. Just one transatlantic contact with KD1CT, Bob in in New Hampshire.
Highlights were my S2S with fellow CW Academy student @SA3IEI Stephen on SM/JL-057 and obviously getting a S2S with @G4OBK Phil, wonderful to hear him activating again (with his great sense of humour).
| TIME | CALLSIGN | FREQ | BAND | MODE | RSR | RST | OPERATOR | COUNTRY | COMMENT |
| --- | --- | --- | --- | --- | --- | --- | --- | --- | --- |
| 08:34 | GW3UZS | 3.775 | 80m | SSB | 57 | 59 | Geff | Wales | AMP: SB Solid State, ANT: Ful |
| 08:38 | 2E0AGB | 3.775 | 80m | SSB | 59 | 59 | Alan | England | |
| 08:40 | 2E0FEH | 3.775 | 80m | SSB | 57 | 58 | Kruger | England | |
| 08:41 | G0RQL | 3.775 | 80m | SSB | 59 | 59 | ROOMES | England | |
| 08:42 | GI0AZA | 3.775 | 80m | SSB | 59 | 59 | Harper | Northern Irel | |
| 08:43 | M1MCW | 3.775 | 80m | SSB | 59 | 59 | Stewart | England | ANT: Inv-L |
| 08:46 | MM0XPZ | 3.775 | 80m | SSB | 59 | 59 | Groves | Scotland | |
| 08:53 | EA1DHB | 14.342 | 20m | SSB | 55 | 56 | Ricard | Spain | |
| 08:54 | SA4BLM | 14.342 | 20m | SSB | 59 | 59 | Markus | Sweden | |
| 08:55 | SP2SJ/P | 14.342 | 20m | SSB | 55 | 53 | KUCZYNIECK | Poland | |
| 08:56 | 9A2KI | 14.342 | 20m | SSB | 59 | 59 | Kapov - Ic | Croatia | |
| 08:57 | SQ2RBY/P | 14.342 | 20m | SSB | 51 | 51 | Blonski-Ku | Poland | |
| 08:59 | OH6LS | 14.342 | 20m | SSB | 59 | 59 | S | Finland | |
| 08:59 | F4WBN | 14.342 | 20m | SSB | 59 | 59 | SAINT-ARRO | France | |
| 08:59 | HB9DRM | 14.342 | 20m | SSB | 59 | 59 | MUEGELI | Switzerland | |
| 08:59 | SV2RUJ/P | 14.342 | 20m | SSB | 57 | 59 | Triadafyll | Greece | SOTA: SV/MC-010 |
| 09:00 | F5OUD | 14.342 | 20m | SSB | 59 | 59 | Dupin | France | |
| 09:01 | EA1DFP | 14.342 | 20m | SSB | 59 | 59 | ALGARRA | Spain | |
| 09:01 | OH3BHL | 14.342 | 20m | SSB | 59 | 59 | KARTTUNEN | Finland | |
| 09:01 | SP9TBT | 14.342 | 20m | SSB | 55 | 59 | Borkowski | Poland | |
| 09:02 | IK4IDP | 14.342 | 20m | SSB | 59 | 59 | Tommasi | Italy | |
| 09:02 | OM1AX | 14.342 | 20m | SSB | 53 | 59 | RABEK | Slovak Republ | |
| 09:03 | CT2GSN/P | 14.342 | 20m | SSB | 55 | 53 | CUNHA | Portugal | SOTA: CT/MN-042 |
| 09:04 | IZ0IJC | 14.342 | 20m | SSB | 59 | 59 | De Meo | Italy | |
| 09:04 | IK2ECC | 14.342 | 20m | SSB | 59 | 59 | CIPOLLA | Italy | |
| 09:05 | OH1CM | 14.342 | 20m | SSB | 59 | 59 | Tuominen | Finland | |
| 09:05 | SP1MVG | 14.342 | 20m | SSB | 59 | 59 | JANCZAREK | Poland | |
| 09:06 | IC8CUQ | 14.342 | 20m | SSB | 59 | 59 | Cappiello | Italy | |
| 09:06 | UT5ZC | 14.342 | 20m | SSB | 59 | 59 | Levchuk | Ukraine | |
| 09:07 | OE5JKL | 14.342 | 20m | SSB | 57 | 59 | JAEGER | Austria | |
| 09:07 | IK7XGH | 14.342 | 20m | SSB | 59 | 59 | COLONNA | Italy | |
| 09:07 | DK7RD | 14.342 | 20m | SSB | 59 | 59 | Beissel | Germany | |
| 09:08 | SP9TKW | 14.342 | 20m | SSB | 58 | 59 | Klimczyk | Poland | |
| 09:08 | SP9AWS | 14.342 | 20m | SSB | 59 | 59 | KWIECIEN | Poland | |
| 09:08 | I4RHP | 14.342 | 20m | SSB | 59 | 59 | CAPPELLETT | Italy | |
| 09:09 | DL9SEP | 14.342 | 20m | SSB | 59 | 59 | LEUSCHNER | Germany | |
| 09:09 | IZ2BQF | 14.342 | 20m | SSB | 59 | 59 | Santacatte | Italy | |
| 09:10 | DL8NDG | 14.342 | 20m | SSB | 59 | 59 | Bienefeld | Germany | |
| 09:10 | EA2DT | 14.342 | 20m | SSB | 33 | 59 | | Spain | |
| 09:11 | 9H1FL | 14.342 | 20m | SSB | 59 | 59 | BAILEY | Malta | |
| 09:11 | 9A3R | 14.342 | 20m | SSB | 59 | 59 | Rudela | Croatia | |
| 09:11 | HG8FH | 14.342 | 20m | SSB | 59 | 59 | KOVACS | Hungary | |
| 09:12 | OH1TD | 14.342 | 20m | SSB | 59 | 59 | Karvo | Finland | |
| 09:12 | DL1DVE | 14.342 | 20m | SSB | 57 | 57 | Franke | Germany | |
| 09:12 | UX1IM | 14.342 | 20m | SSB | 59 | 59 | Motsnyi Ol | Ukraine | |
| 09:13 | SQ9JXS | 14.342 | 20m | SSB | 59 | 59 | Stanik | Poland | |
| 09:22 | G4OBK/P | 145.400 | 2m | FM | 56 | 52 | Catterall | England | SOTA: G/NP-009 |
| 09:26 | M0XCT | 145.450 | 2m | FM | 54 | 52 | Kevin | England | |
| 09:26 | G6LKB | 145.450 | 2m | FM | 59 | 59 | WARBURTON | England | |
| 09:26 | G8CPZ | 145.450 | 2m | FM | 59 | 59 | Barth | England | |
| 09:27 | GW4ZPL | 145.450 | 2m | FM | 55 | 55 | Barwell | Wales | |
| 09:28 | M1DHA | 145.450 | 2m | FM | 59 | 59 | Alan | England | |
| 09:29 | GW3YQP | 145.450 | 2m | FM | 59 | 53 | Hardie | Wales | |
| 09:29 | G0HRT | 145.450 | 2m | FM | 59 | 59 | Rob | England | |
| 09:30 | G1ACD | 145.450 | 2m | FM | 59 | 59 | Peter | England | |
| 09:30 | G6AEK/M | 145.450 | 2m | FM | 59 | 59 | Molyneux | England | |
| 09:32 | 2W1PJE/P | 145.450 | 2m | FM | 59 | 58 | Peter | Wales | SOTA: GW/NW-015 |
| 09:32 | M7MCG | 145.450 | 2m | FM | 55 | 59 | Mic | England | |
| 09:32 | M6MLV | 145.450 | 2m | FM | 55 | 59 | John | England | |
| 09:33 | M0MZB | 145.450 | 2m | FM | 55 | 55 | | England | |
| 09:35 | MI6LNP | 145.450 | 2m | FM | 57 | 53 | Norman | Northern Irel | |
| 09:37 | M0YCJ/P | 145.400 | 2m | FM | 57 | 55 | Colwny | Scotland | SOTA: G/NP-010 |
| 09:40 | 2E0XUP | 145.400 | 2m | FM | 56 | 57 | Davison | England | |
| 09:41 | 2E0MOW | 145.400 | 2m | FM | 59 | 59 | Naylor | England | |
| 09:44 | GM4WHA | 145.500 | 2m | FM | 51 | 52 | HARPER | Scotland | |
| 09:44 | 2E0LBI | 145.400 | 2m | FM | 59 | 59 | Bell | England | |
| 09:48 | M0XOC | 145.400 | 2m | FM | 59 | 52 | Cox M0XOC | England | |
| 09:53 | G0MHF | 145.400 | 2m | FM | 59 | 58 | John | England | |
| 09:56 | G0LWU | 145.400 | 2m | FM | 59 | 59 | Scarr | England | |
| 09:57 | G0UOK/P | 145.400 | 2m | FM | 59 | 59 | Dutton | England | SOTA: G/NP-004 |
| 09:58 | M7SHZ/P | 145.400 | 2m | FM | 59 | 59 | Sharon | England | SOTA: G/NP-004 |
| 09:59 | G5ZX/P | 145.400 | 2m | FM | 59 | 59 | Steve | England | SOTA: G/NP-004 |
| 10:16 | MW7DTE/P | 145.475 | 2m | FM | 59 | 59 | Evans | England | SOTA: GW/NW-006 |
| 10:20 | G4OBK/P | 7.118 | 40m | SSB | 59 | 59 | Catterall | England | SOTA: G/NP-009 |
| 10:35 | CT2HOV/P | 14.290 | 20m | SSB | 57 | 57 | Pereira Go | Portugal | SOTA: CT/BA-010 |
| 10:37 | G6PJZ/P | 145.525 | 2m | FM | 43 | 55 | Clift | England | SOTA: G/TW-003 |
| 10:45 | SP9MA/P | 10.114 | 30m | CW | 599 | 559 | Jarek | Poland | SOTA: SP/SS-012 |
| 10:56 | G8TMV/P | 5.398 | 60m | SSB | 59 | 59 | TUCKLEY | England | SOTA: G/WB-015 |
| 11:04 | F4HPV/P | 14.280 | 20m | SSB | 59 | 57 | michel | France | SOTA: F/AM-396 |
| 11:07 | I1WKN/P | 14.288 | 20m | SSB | 59 | 57 | SERA | Italy | SOTA: I/PM-148 |
| 11:11 | MS0TA/P | 7.150 | 40m | SSB | 59 | 57 | Scotland | | SOTA: GM/WS-242 |
| 11:18 | SA3IEI/P | 14.064 | 20m | CW | 559 | 559 | Beaton | Sweden | SOTA: SM/JL-057 |
| 11:25 | HB9LEK/P | 14.286 | 20m | SSB | 55 | 55 | Neukomm | Switzerland | SOTA: HB/ZH-015 |
| 11:26 | ES1LL | 14.240 | 20m | SSB | 57 | 58 | Sergey | Estonia | |
| 11:29 | IU0FBK/P | 14.220 | 20m | SSB | 57 | 58 | Marco | Italy | |
| 11:39 | OK1SDE | 14.310 | 20m | SSB | 57 | 59 | Wagner | Czech Republi | |
| 11:40 | G3TQQ/P | 14.310 | 20m | SSB | 59 | 59 | BOTTOMLEY | England | SOTA: G/TW-002 |
| 11:41 | SV1RVJ | 14.310 | 20m | SSB | 59 | 43 | Ioannou | Greece | |
| 11:41 | EA1DHB | 14.310 | 20m | SSB | 55 | 57 | Pena | Spain | |
| 11:42 | OH3GZ | 14.310 | 20m | SSB | 59 | 55 | KOVANEN | Finland | |
| 11:46 | KD1CT | 14.310 | 20m | SSB | 57 | 59 | Bob | United States | |
| 11:46 | G5ZX/P | 14.310 | 20m | SSB | 59 | 59 | W | England | SOTA: G/NP-004 |
| 11:47 | HB9BHW | 14.310 | 20m | SSB | 56 | 59 | Hans | Switzerland | |
| 11:48 | YO8AZQ/P | 14.310 | 20m | SSB | 55 | 52 | DONE | Romania | SOTA: YO/EC-227 |
| 11:49 | F4HZR | 14.310 | 20m | SSB | 55 | 55 | MONDON | France | |
| 11:49 | HB9GHJ | 14.310 | 20m | SSB | 59 | 58 | Gredig | Switzerland | |
| 11:50 | DL8TV | 14.310 | 20m | SSB | 58 | 59 | Torsten | Germany | |
| 11:51 | DH8WN | 14.310 | 20m | SSB | 57 | 59 | Niebel | Germany | |
| 11:53 | DD2ZN/P | 14.280 | 20m | SSB | 58 | 59 | Pralle | Germany | SOTA: DM/HE-059 |
| 11:55 | US3EZ | 14.220 | 20m | SSB | 57 | 59 | Serge | Ukraine | |
| 12:12 | 2W1PJE/P | 145.375 | 2m | FM | 59 | 59 | Peter | Wales | SOTA: GW/NW-007 |
| 12:16 | EA2CCG/P | 14.310 | 20m | SSB | 53 | 52 | Montoya Ji | Spain | SOTA: EA2/NV-148 |
| 12:19 | YO5OTA/P | 14.283 | 20m | SSB | 52 | 55 | Pascal | Romania | SOTA: YO/WC-225 |
| 12:29 | UT1EK | 14.247 | 20m | SSB | 56 | 58 | Anatoly | Ukraine | ANT: Wire 3 Ele Delta Loop |
| 12:41 | GW7LAS/P | 3.776 | 80m | SSB | 59 | 59 | Rob | England | HEMA: GW/HMW-043 |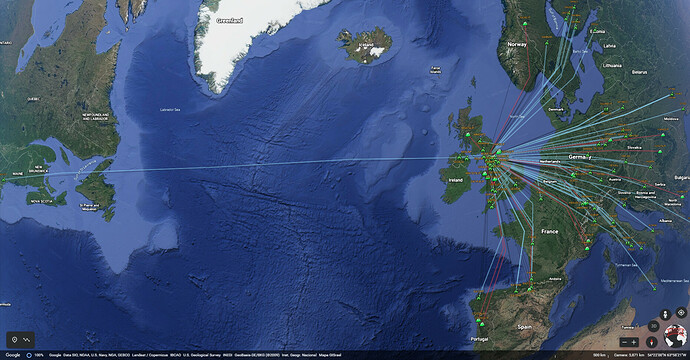 QSO Map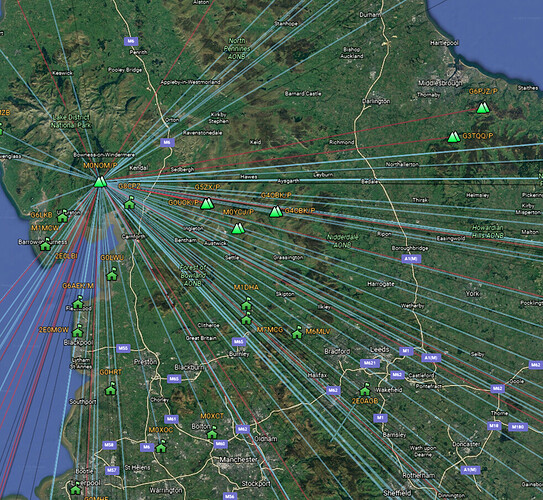 Highlighting Yorkshire Contacts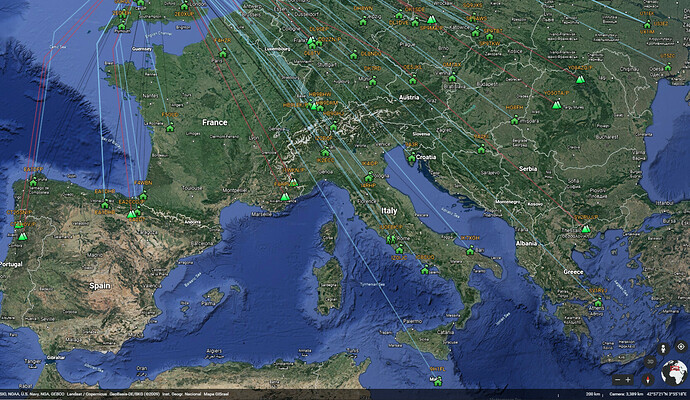 Good contacts into Europe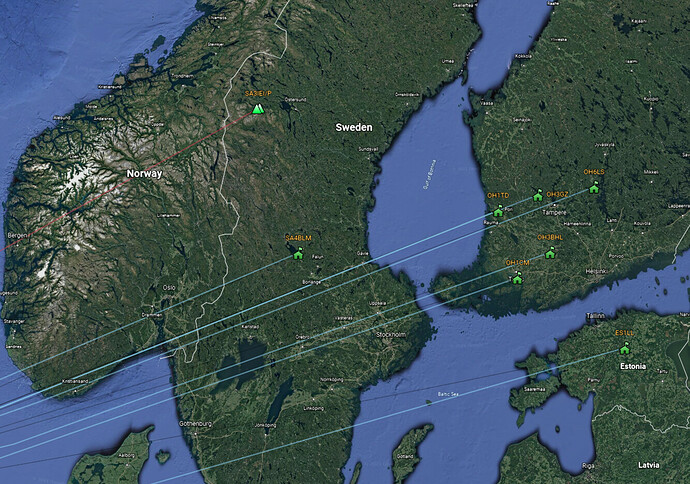 Scandanavia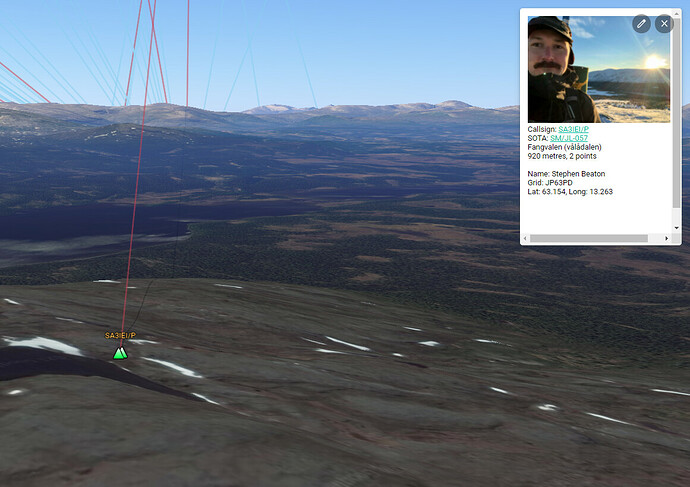 CW S2S with Stephen, he was only using 5w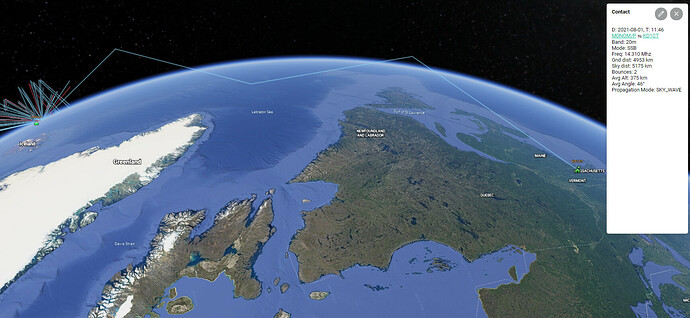 Longest contact of the day