Despite being visually prominent from my QTH I had not yet attempted Whitfell (G/LD-032) or Black Combe (G/LD-030) as SOTA activations. I have cycled past many times, and also camped on the side of Black Combe several years ago. With the sun shining brightly, and temperatures approaching 30 degrees I decided that Saturday 6/7/2021 was the day to tackle them.
The plan was to cycle to the top of the Corney Fell road and head north onto Whitfell, with the option of taking in Black Combe if time allowed.
I set off from home later than planned, since I had left it until the morning to draw together my SOTA kit. I was aiming for the to be quick and light. Equipment consisted of
Yaesu VX-6 HT
Yaesu VX-8 HT (giving APRS spotting options)
Sotabeams mini tleescopic mast (4.1m) [packed length 50cm, weight 300g
Home-made flowerpot antenna for 2m
Various whip/telescopic antennas
For the cycle today, I opted to use my vintage Airborne Valkyrie kitted with a Carradice saddlebag - I like the traditional look. With this being a lightweight outing I packed a pair of Walsh fell running shoes to change into for the short jog to the summit.
The cycle rid took me south past the entrance to Wasdale and onwards to the short climb over Muncaster. With legs now loosened, the Corney fell road lay ahead. A nasty steep section marks kicks-in as soon as one turns off the main road - a useful test to anyone unfamiliar with the road ahead, to confirm if a low enough gear is available. The road flattens out for a round a kilometer and then, after passing a cattle grid, the climb starts.
This is a pleasant climb, unlike many of the more famous lake-district passes which feature gradients of 20% or more. The views are fantastic, with the West Cumbria and the Irish sea opening behind, and Morecambe bay revealed as the top is crested.
I had not studies a map before setting off, and so part of the climb was spent trying to judge where the summit of Whitfell lay. I ought to have checked, as the distance from road to summit actually turned out to be further than I expected.
At the crest of the pass I changed into the may pair of Walshes and wheeled the bike around 200m up the grassy track, locking it to itself.Just as a I was finishing locking the bike, I head M0YCJ/P on G/NP-006, I returned his call and advised I would be ready for a S2S in about 5 mins. I then headed off to the summit; fortunately I checked my map at this point, and realised that Whitfell was further than anticipate. The craggy outcrops near te road which I had always assumed to be the summit, are just craggy outcrops. The true summit is around 2km further, across a pleasant grassy hillside. It was going to take more than 5 mins.
On the way to the summit I had a brief explore of Buckbarrow and checked out a couple of streams for water. I also had a chat on 2m using the handheld with several none SOTA stations.
With the summit gained I didn't have time to setup my antenna before hearing two S2S on the handheld. MW0TYM/P on GW-NW-002 and GW4TJC/P on GW/NW-026 were worked using the VX-8 on a diamond RH770 antenna.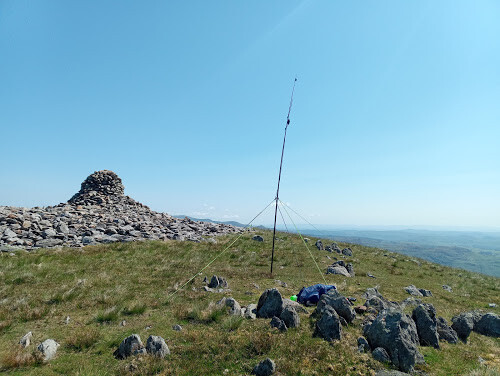 Flowerpot antenna setup on the summit
Although it was very sunny and warm there was a stiff breeze on the summit, which felt quite refreshing following the labours of the previous hour or more.
Eventually the flowerpot was setup atop the fibregalss pole. I've had the pole for many months, and not used it - it is really convenient as it packs down to the size of a large bicycle pump. WIth antenna connected to teh VX-6 (using an SMA/BNC converter) I called SQ and Gw4ZPL was first to respond.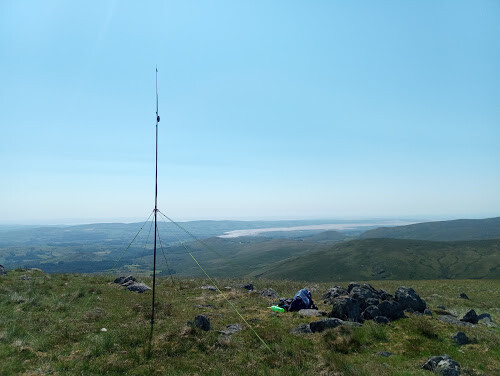 Looking south-east towards the Duddon Estuary and Morecamb Bay
I large pile-up followed with contacts across to Clitheroe (G4BLM), Wigan (M0XOC), SE Manchester (M1FHM), County Kildair in Ireland (EI9JF), Newcastle-under-Lyme (2E0SCX) and Liverpool (M0NVJ). As the pileup subsided after half-an-hour I looked around for more S2S and worked 2W1PJE/P on GW/NW-040 followed by @GD0TUB/P on GD/GD-001. I was very pleased to work into GD - I can see Snaefell from my QTH and regularly use the repeater GD3IMS and @GB3GD, but this was my first SOTA chase into GD land.
After a short break to much on some food I worked three more S2S - M3TMX/P on G/SP-013, M0JKS on G/SP-002 and G6WBS/P on G/NP-001. It was turning out to be a great activation, with so many other summit stations and great propagation the time had ticked onwards and I decided to abandon any thoughts of walking across to Black Combe.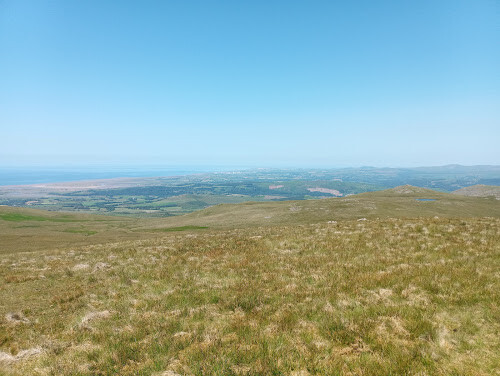 Looking west towards Ravenglas,Sellafield and Isle-of-Man
I called out CG again on 145.500 and started a fresh pileup. After 2M0JIK called in from Newton Stewart I only needed a GI station to complete all the home countries (plus Isle of Man), so I called out specifically for anyone in GI and I was pleased to hear GI0LAM respond.
It was now 1300BST, I had been on the summit for 2 hours - time seems to fly by during a busy activation. I had not expected to be out so long, so did not have much food with me. I was reluctant to leave, but the thought of ice-cream and a cold bath encouraged me off the summit and back to the bike.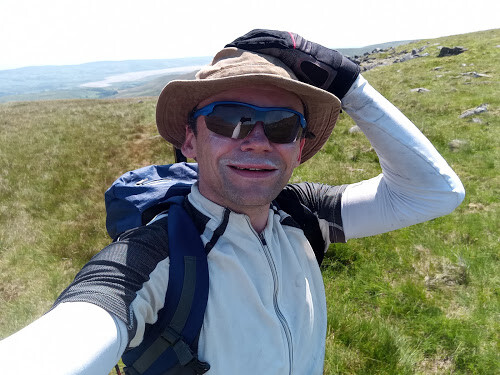 Heading back to the bike -plenty of zinc oxide to prevent sun-burnt lips!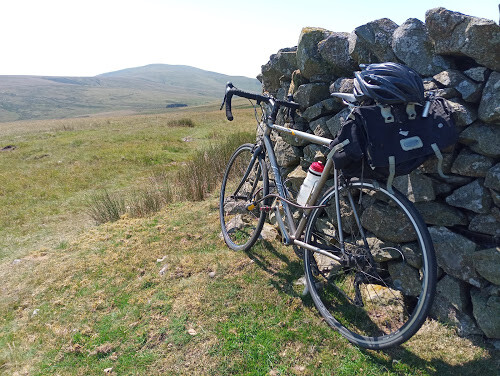 Back at the bike - Black Combe is visible behind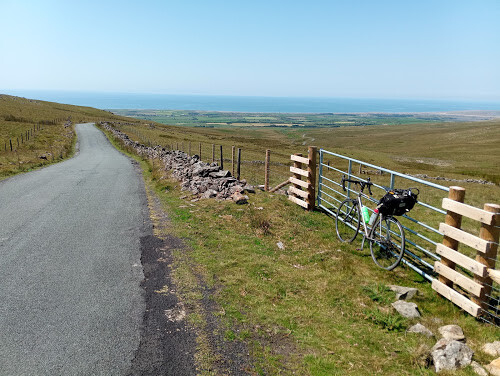 Heading down!
The ride home was much easier, with the descent off Corney fell great fun. the climb back over Muncaster is in shade, and this was most welcome after the couple of hours spent in the sun.
I will be back for Black Combe soon! Many thanks to those who chased me.