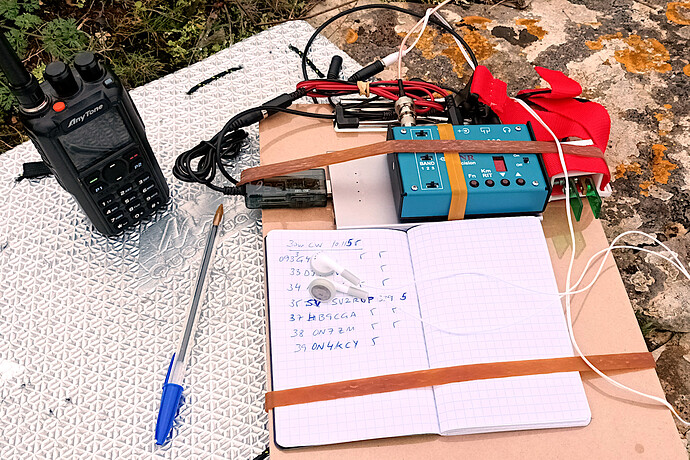 Hi.
I've been in the process of lightening the weight of my backpack for a while now, so I'm doing some tests and changes to my station and procedures. Today I have gone up to EA6/MA-032 with the intention of doing a quick test of the new combination.
I have replaced my Yaesu FT-817 with a MTR3B without a LCD screen. CW p0wa!
As an antenna, I keep using my trusty EFHW (with traps) for 40m, 30m and 20m and have swapped the RG-58 cable for RG-316.
As a power source, today I tested a USB converter (9V and 12V), taking advantage of the fact that I always carry a small power bank with me. I was concerned about the electrical noise the adapter might cause, but I was pleasantly surprised that I could not detect any worsening in reception.
Problems I have encountered:
Intermittent electrical contact in the BNC to RCA adapter connector for the antenna, endangering the equipment during transmission and making reception difficult.
Problems in the adjustment of a new leg paddles that I was given. It has been impossible to use it in iambic mode, having to press dots and dashes separately. I've ended up mounting it on the board for convenience so they need a few more adjustments.
With this problems and considering that I am a novice in CW, my keying has been very poor lately.
My apologies to those who have contacted me these days. I will continue to debug my setup.
Work in progress…
73, Xisco.