I was meant to be away on holiday this week doing a wee SOTApedition but a funeral on Monday put pay to that. Tues/Wed I was off sick instead of holiday, so I started yesterday and watched the rain. Today was meant to be good, fabulous blue sky when I got up and no wind but it was to cloud up and get windy. The really bad weather waiting for Easter proper.
A pair of "trivial" 1 pointers, one I did 3 years back and one 7 years ago.
I did Dumglow from the North, parking on the minor road after the village of Cleish. I parked at the wrong track and had to drive another mile or so or I'd have not been best please. At the right track gate it was a simple plod to the end of the forest track then into the firebreak at the 10 o'clock position in the turning circle. Follow that to the clearing with the steep slope, on a bit to the tree with all the plastic tape. Turn right, up the slope, over the fence, path to the trig point. Bada-bing, bada-boom… I was at the top in 45mins. I dd 60m SSB which was lively, 40m SSB which was switching between short and long skip and 40 CW. I had an OZ7 call who just ignored the directions, gave me reports, when told to QRX just kept ignoring me and doubling with the station I was working. OZ would have been a new country on 60m but I refused to work him or log it. The WX got worse as I was there and the wind was quite blustery. Again I managed to leave the SDcard in the PC so a few photos taken on my new phone at 13Mpixels. (13M on a phone, shakes head.)
60m SSB: G, GI, PA                       9 QSOs
40m SSB: G, GW, SM, PA, EA2, GM, SP, LA 29 QSOs
40m  CW: F, HB9, SP, G, DL, GW           9 QSOs

Summit Dumglow SS-234, West Lomond, Bishop Hill, Benarty Hill behind the trig. Sky looking OK.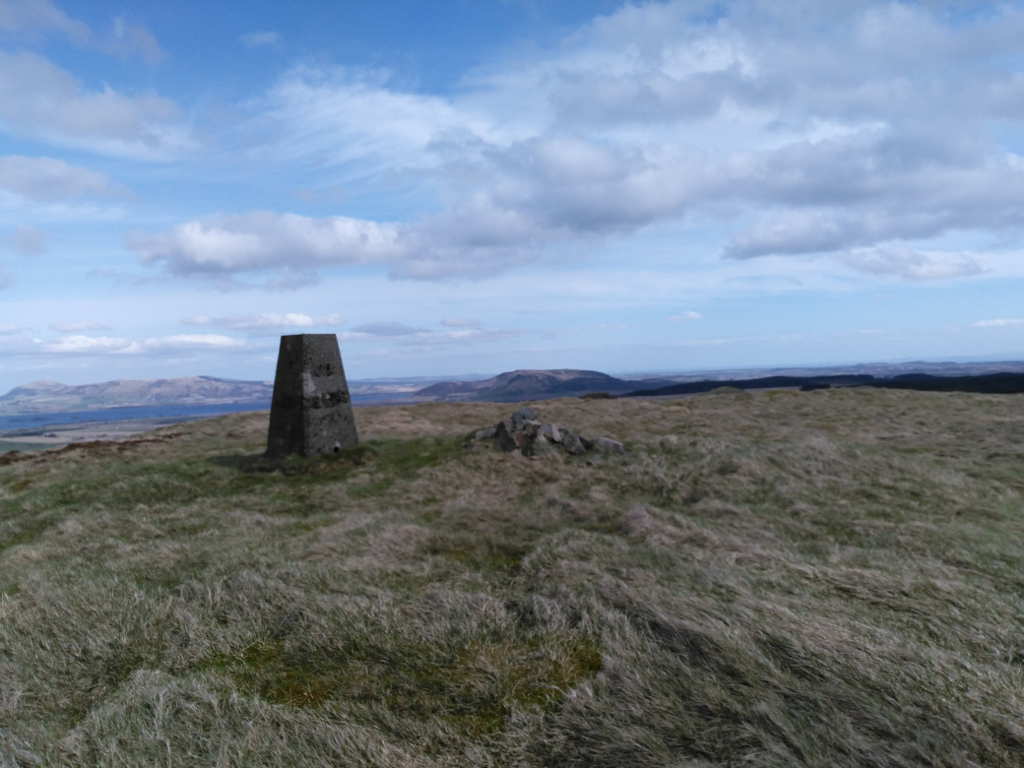 Benarty was from the South. You can start much higher up on the South side. I managed to park and lock up my pickup yet leave the driver's window wound down completely. So I've forgotten the SDcard 3 times now and left the car windows wide open twice. Must be getting senile. The climb starts with a fairly brutal set of steps then a steep at times path. The surfaced path ends at a switchback and it's a boot generated path from here through the woods to the trig. It was very windy. Enough to shake the pole to collapse 5 times.

Just 60m SSB and 40m SSB. I was about to go onto 40 CW but the pole collapsed again and I was frozen and wind blown. I said some rude words and packed up. But I did work OZ so I got my new country and PA on 60m was new too!
60m SSB: G, GM, GD, OZ, GW, PA, EI       19 QSOs
40m SSB: GW, G, PA, EA2, DL, SP, HB9, ON 19 QSOs

Summit Benarty Hill looking towards Edinburgh. Glum sky and you cannot see how windy it was!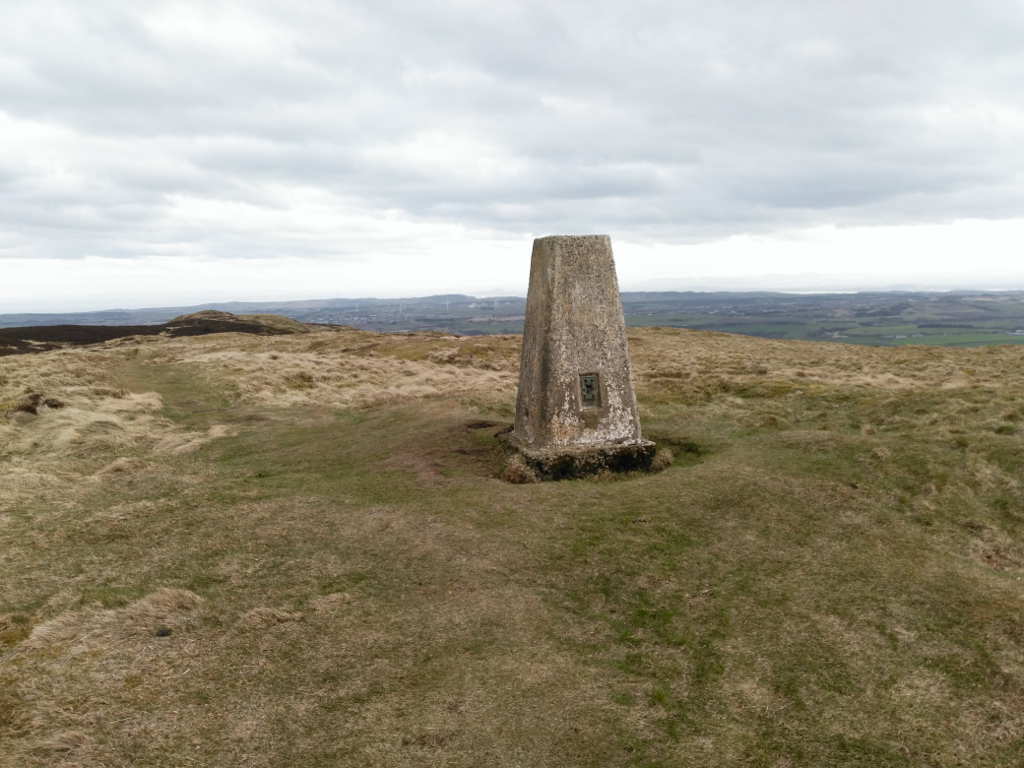 Not a twinge or tweak from my back. I did find 2 simple hills a bit hard at times but my back has been fine. In fact since I started walking again I can say my back has improved. The only things I notice are being outside for a several hours in the wind is much more tiring than I recall. I do lots of rowing but my thighs have lost performance and the front of them complains after a descent.