After my failed Cross Fell activation i thought I'd try a small local hill to try my first HF SOTA activation. It was also the first time I've let my 5 year old son join me on a hike, he thoroughly enjoyed it and wants to go on another.
I parked up at Lord Stones Cafe and it was very busy, it also has been re developed since i was last there.
We set off and headed off up the wide muddy path to the top of G/TW002 - Crinkle Moor.
My rucksack still has all the heavy kit list of my cross fell activation but it felt lighter for some reason.
We made it to the top and some view was available but it was mostly hazy.
We made it to the top and then followed a small sheep track to the cairns summit where I would set the antenna up.
As this was the first time I've set up HF on a SOTA it took me a while to get the pole and antenna and everything all setup and ready and some refinements will be needed to improve the time this takes.
Once on the air and found a suitable rock to sit on I fired my TS-480 up and found a blank frequency. I put out 1 CQ and got nothing.
So i put a spot on sotawatch and called CQ again. What came back was quite a shock. I havent been on SOTA activating/chasing for around 9-10 years and then it was only 2m fm i did. I was not ready for the response to the CQ I got. I felt like a rare DX station.
The first callsign I received back was AC1Z and the callsigns just kept coming, Germany, Spain, Portugal, Norway, Finland and 2 S2S, one with G4ASA on G/TW005 and another with DM/BM116 in Germany.
After around 30 minutes the pileup appeared to go as quickly as it came, my son was also starting to ask if it was time to go.
I gave a quick couple of shouts on my 2m handheld but got no response.
I set about disassembling the station and my assistant was very helpful.
We set off, this time he was the leader he said and we got back down to the car where he tucked into a packed lunch and i drove.
Operated around 1300-1330
TX - kenwood TS-480
Power: 25w
Battery: 12AH 12v SLAB
Antenna: 14mhz half wave resonant end fed with 10M fishing pole as a mast.
24 QSOs 2x S2S QSO and 2x IOTA QSOs


Kit all packed up


All set up with DIY guys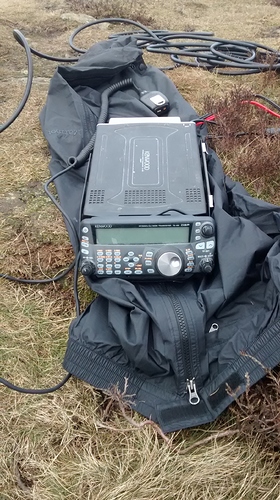 Rig with ridiculous thick and lengthy coax.
Station on G/TW002 Crinkle moor.
SOTA has definately got me ill again. I have the bug called SOTA activitus. hihi.
Although this time round i am surprised and pleased at the amount of world wide coverage SOTA has in Ham radio.
M0VED