My last hike and activation of this very close to the city of Pamplona mountain was last May 16th.
For various personal and family related reasons I had not found the chance and the right time to do it again since then.
Since I finished my last summer holidays I have only activated twice, one in December and the other one, which was a drive on summit, last January 8th.
So many months without hiking made me fear that I might have lost my fitness and hiking the 400m elevation on Mt. San Cristóbal through the quite demanding route I always follow would cost me more time and effort than the 35 minutes it used to take me.
In order to avoid loosing my fitness, since we moved from the house in the village South West of Pamplona to the appartment in the city of Pamplona, I've been "hiking" to our current rental appartment in the 7th floor through the stairs and I've been doing it twice and sometimes three times a day, thus making a total of between 14 and 21 floors a day through the stairs.
This has payed off and proven very effective today, as I completed the 400m elevation hike without any issues in the usual 35 minutes. I did it with my sota-kit inside the rucksack weighing about 6 Kg, plus my 7m telescopic fishing rod and this foldable chair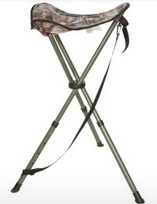 because I guessed the summit would be very muddy after the snow and rain we've been having lately.
The WX today was very overcast with some few small drops of rain when I left home with my dog Lucho. Since I use to do this ascent on the Southern side of the mountain, I managed to hike dry although along a very muddy track.
When I reached the summit, I started to receive the rain and the wind, both coming from the NorthWest. As I had guessed, it was very muddy on the top and I felt grateful for having taken the foldable chair with me.
I set up my endfed wire antenna on top of the 7m telescopic fishing rod + a partly elevated counterpoise wire and then raised a selfspot on SOTAwatch.
Very shortly after the spot was displayed on SOTAwatch, I got Jorge EA2LU and Manuel EA2DT calling me from downhill in the city of Pamplona. Their signal was of course 599+++
After Manuel EA2DT QSO, I called CQ SOTA and got various chasers calling me. I picked up and had QSO with Mariusz SP9AMH. Then I got the DX of the day. It was Barry N1EU with a good 559 signal.
After Barry, I was called by 2 more stations whose callsigns were unfamiliar to me among the regular SOTA chasers. One was OM3TGB and the other one had an extrange callsign which makes me fear it may not be a real legally licensed ham callsign. His callsign was SN0QRP and I think the 3 letters suffixes beginning by Q, even more if they are forming a valid Q-code expression, are not allowed and are not issued by any country authority.
I may be wrong, but I don't think so. Any comments on this will be welcome.
After this last QSO, I called CQ a few more times with some light rain still falling, but had no response.
It was time for me to pack up and descend to be home on time for lunch in family, so I announced QRT and proceeded.
Descent was an interesting mix of hiking descent and on-mud-skating. It's good that I learnt roller blading when I was living in Michigan back in 1998. This skill has often proven very useful to avoid landing on the mud after slippering.
I got to the car a bit wet but not too much.
This is the full (short) log of today's activation.


It's been a great pleasure to be back hiking and activating this nice local summit.
Thanks dear chasers for your calls and QSOs.
I'll be looking forward to copying you again very soon from a summit.
Best 73,
Guru