The morning was pretty cold (3° C) and foggy.
I started the hike at 10h11 utc and after 35 minutes of tough hike, I got to the summit and was delighted with the great views of the fog down on the valley, while a nice sunshine was warming us in the summit.
I quickly set up the usual mobile whip with a single wire radial.

As soon as I found a clear frequency, I selfspotted and started CQing on 14.064.
By 10h57 Manfred DL4ZBY called me and we completed the 1st QSO of this activation.
When we had just finished our QSO, the crowd had already arrived to the frequency and the huge pile up was there in very good shape making it very difficult for me to pick up a single callsign.
I struggled to pull up one by one, little by little, all the callsings in the pile up and after 15 minutes of operation I managed to log all of them. 21 QSOs on the log in 15 minutes.
This is the full log: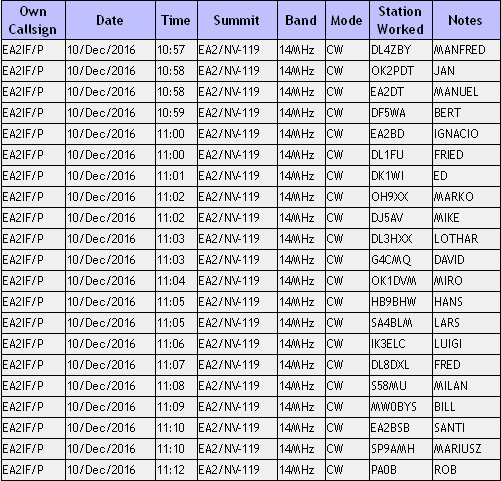 After a couple unresponded CQ calls, I went QRT, packed up and grabbed my camera to take some pictures of the nice ocean of clouds before a quick descent of 21 minutes to the car.
I hope you will enjoy them.
Thanks a lot for your calls and QSOs.
Best 73,
Guru