I was honored today with the visit of whom has been awarded best EA2 SOTAer of the passed year in the last weekend EA2 SOTA day event and his kind, helpful, loyal companion and wife.
I'm talking about Antonio EC2AG and Bego, his wife.
They had initially planned Mt. Beriain EA2/NV-015 for today but it's an almost 1500m a.s.l. very prominent mountain, with sleepery rocky very steep slopes, and it would be foggy and very wet today with big chances for rain, so I warned them and convinced them to join me in my 53rd activation of Mt San Cristóbal a lower and safer summit for a rainy day like today.
The day before, I sent them the GPS coordinates of the exact start point for the hike I usually do, so Antonio and Bego started their hike this morning a few minutes ahead of me, while I was dropping my 6 years old son off at the rock climbing training place.
I completed the ascent in the usual 35 minutes and got to the summit just a few minutes after Antonio and Bego had made it.
We exchanged greetings and I quickly set up to start my activation.
Despite having found some contest activity from the All Asian contest, I decided to start CQing on 20m CW. This is a picture Antonio and Bego took of me during the CW operation: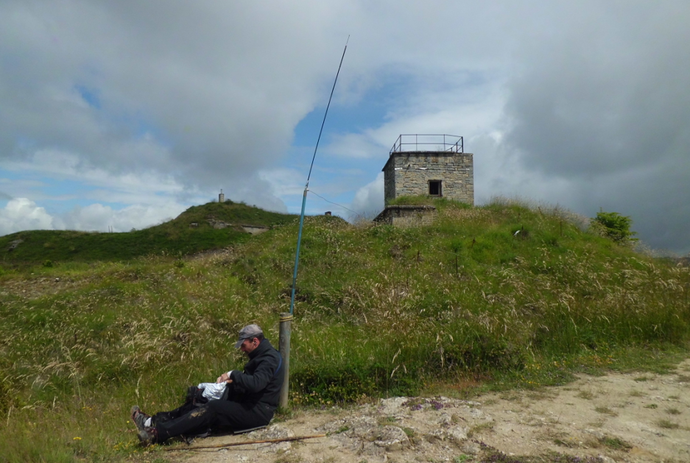 I logged 13 QSOs in 15 minutes, 2 of them were S2S, one with Juerg DL/HB9BIN/P and the other with Karel SV/ON4FI/P. Thank you very much for your calls and S2S QSOs!
When the CW pile up dried up, I had some few minutes left and decided to give SSB a chance.
I selfspotted and quickly got a call from Mike G6TUH, who told me of a strong splatter he was having on my chosen frequency. I wasn't copying it at all but I decided to follow Mike's recommendation to QSY 3Kc up, where he kindly spotted me.
When I QSYed to the new frequency I found a splatter which probably MIke G6TUH didn't have his side, as he had checked QRG and I assume he obviously found it clear, so he recommended it to me. Despite that splatter, I decided to avoid a new frequency change, which would have confused the chasers following me on Sotawatch and went ahead in the hope that the splatter wouldn't disturb too much my reception.
I logged 8 QSOs in 7 minutes, some of which were coming with pretty weak signals. The splatter didn't disturb me much and I managed to successfully copy even those very weak signals calling.
The pile up soon dried up on SSB and after a couple of unresponded CQ calls, I decided to QRT for pack up, photo of the trio in the summit and descent leaving Antonio and Bego under the coming rain for their activation.
This is the full log of today's: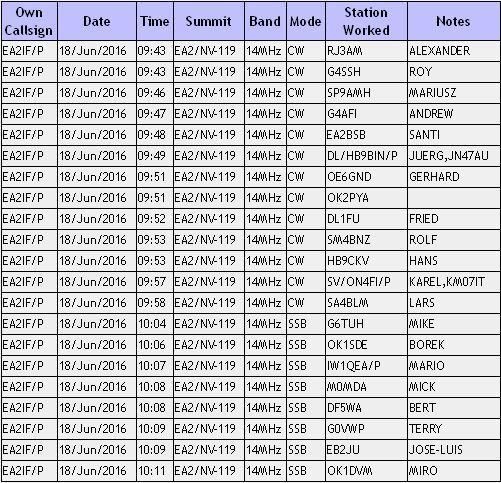 And this is the S2S log:


This is the nice picture of the trio in the summit. Antonio is wearing the basque "txapela" on his head, which awards him as the best EA2 SOTAer this last year.
Congrats, Antonio!!!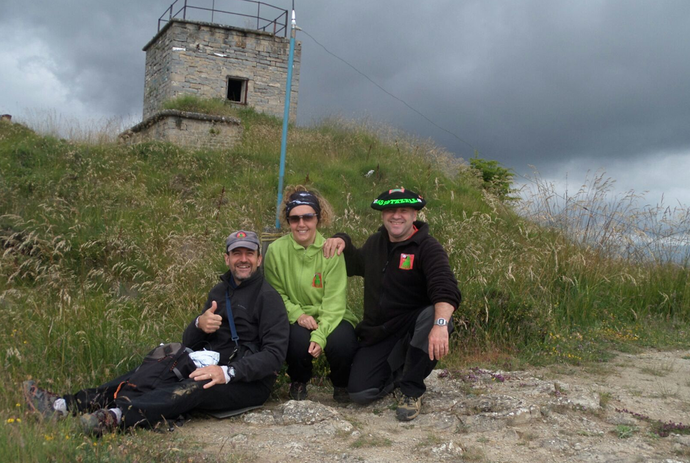 Thanks dear Antonio and Bego for your visit.
Thanks dear chasers for your calls and QSOs today.
On my descent, the dark grey cloud which had been placing above us, started to pour an intense rain. I was pretty much wet by the time I got to the car and I thought of Antonio and Bego because they remained at the summit and had to wait there until the rain had stopped to start their activation.
I was wet but happy because my log was dry inside my rucksack and it had a good number of QSOs in it.
Best 73,
Guru