It was very cloudy and windy this morning.
I had to drive my 11 years old daughter to a friend's house and this trip put me a few minutes behind schedule to drop my 6 years old son off to the rock climbing training place, so I started the hike of Mt San Cristóbal by 9h14 utc.
I hiked as fast as I could and I got to the summit in 34 minutes.
I immediately set up the 20m monoband mobile whip antenna with a single wire radial.
When I switched the FT-817 on, I noticed the band quieter than usual.
I also found some difficulties to match the antenna with my MFJ-941B ATU for 1:1 SWR.
In fact I couldn't reach such perfect 1:1 match and had to leave it where the FT-817 SWR meter showed 2 permanent plus a third bar blinking with my modulation peaks.
Something seemed to be not OK with today's set-up but I hadn't time to start investigating, so I went ahead like that and I'd look at that later.
I thought the band sounded quieter than usual due to the problems I seemed to have with the antenna, but now, while writing this report in my shack with my base rig ON, I can see the band is really quiet today. Conditions at 15h18 utc are.


In spite of all these problems, I managed to log 15 QSOs in 14 minutes, 2 of which were S2S, one with Antonio EC2AG/P and the other with Mike 2E0YYY/P.
I was operating on 14.280 and Manuel EA2DT kindly told me that Mike 2E0YYY/P was activatiing just 5 KHz up, so when no more chasers called in, I QSYed 5 Kc up and called Mike for summit to summit, which he immediately copied and gave me the chance to QSO with him. Good ears Mike. Thank you!
When I chased Mike I was already late and it was time for me to descend, so right after exchanging 73's, I went QRT, packed up and descended running as fast as I could to be right in time for picking up my son at the rock climbing place.
This is the full log.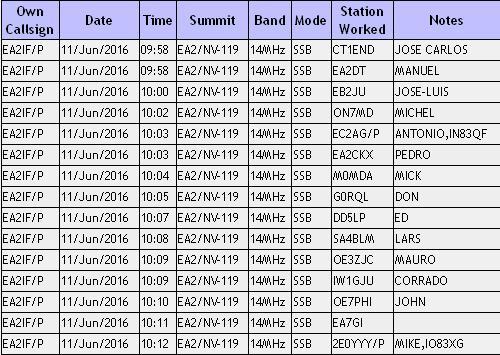 And this is the S2S log:


This was a really short and quick one but I enjoyed very much the exercise, the time in the mountain and of course the few minutes on the air with the privilege of your calls, QSOs and great company. Thank you so much!
Best 73,
Guru