Dear all,
Despite another rainy weather Saturday, I challenged my luck and decided to hike Mt. San Cristobal looking for my 50th SOTA activation of this mountain under a very grey sky with the clouds even stuck to the mountain summit.
After dropping my son off at the rock climbing training place at 9 o'clock utc, I headed to the spot in the old village of Berrio-Zahar where I usually park my car and start the hike, but I found a bit of a traffic jam with 2 cars blocking the very narrow road to the place. After having had to play 3 times the horn of my car, they stopped chatting and finally moved, clearing the road for me to continue, but this added a few minutes delay to my start.
My dog Lucho and I started the hike at about 9h10.
We didn't have any rain during the ascent, which took me the usual 35 minutes, but everything was wet and a bit slippery.
When we got to the summit, there was some fog and a few microdrops of water were being released from the cloud we were in.
After a quick set-up of my 20m monoband mobile whip with a single wire radial sloping down, I wrote and sent by SMS, with the help of the app SPOTmySOTA, a seflspot for 14.280.
Then I started to CQ, but after a number of unresponded CQ calls, I looked to my smartphone to look at Sotawatch and I then realised that my phone was still in flight mode, the mode I usually set for the nights, so no selfspot had been sent.
I rushed to switch the phone into normal mode and immediately resent the selfspot.
With the little traffic jam and this late selfspot due to having the phone in flight mode, I lost very precious minutes, as it was 10h00 utc when the first QSO was logged.
I had very little time to activate and I could only log 12 QSOs in 10 minutes.
This is the full log: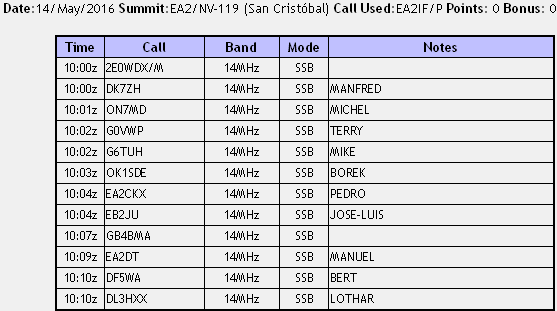 Ascent plus descent took me 57 minutes and 50 seconds.
Average heart beat rate was 150 BPM with a maximum of 169 BPM reached during the ascent.
My pulsometer sais I burnt 36g of fat and 747 Kcal today.
After a very busy and rainy week during which I couldn't do any physical activity other that the stairs to the office at work and the stairs to my bedroom at home, I enjoyed very much this time in the mountain and on the air, despite having been a bit too short today.
Thanks dear chasers for your calls and QSOs.
Let me dedicate this 50th activation of Mt. San Cristóbal to my friend Ignacio EA2BD, who kindly introduced me to the SOTA world at the end of 2013 and had expressed his wish to join me for this 50th activation. He, unfortunately, couldn't make it due to being now away from home helping and supporting a very close family member during a long fight against serious illness.
Best wishes to you and your family, Ignacio!
Best 73 from Guru