Saturday 21st January was a perfect time to mix business with pleasure.
I have my own taxi company and because I was going Gloucester way with a customer and returning later to collect them,why not play a bit of radio inbetween and take the quick 11 mile drive to May Hill on the Welsh Borders, after all it looked an easy walk to the top and I had four hours to kill before I had to be back in Gloucester.
I have also recently packed up smoking for a few days beforehand so it was time to flex the lungs a bit after their tar/smoke bombardment of a few years.
Time to get a bit fitter too so doing something I enjoy with some exercise is the way forward.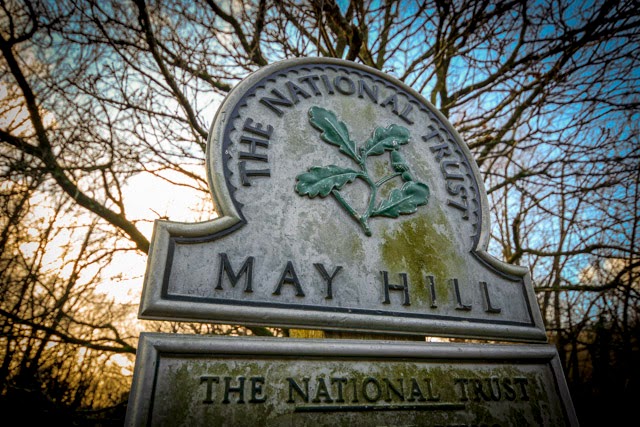 So arrived at the car park with space for 8 or 9 cars after travelling up a single track road stopping for some horseriders to pass safely , there was not much room here but no problem just to wait while they passed.
As it was quite an impromptu decision to pass the time with SOTA I brought my Yaesu FT65-E with a Watson W770 whip screwed on with an SMA adapter.
Set off about 11:00 and it took me about a half hour to get from the car park to the trig point, with the first half of the walk quite steep with a couple of stops along the way to catch my breath.
This is the view up to the group of 99 pine trees at the summit of May Hill. Beautiful views into 7 counties from the summit.
So after an obligatory trig point/radio shot it was time to operate.
So operated from about 1130 to 1215 when my poor fingers decided to seize up due to the pretty chilly breeze atop the hill.It was quite temperate with some sunshine to begin but by the time I left it was very overcast with not much breaking through the clouds and a distinctly colder feel.
Looking towards the Severn Vale and Slimbridge Wetlands.
Contacts on the 2m FM Band were:
G0LGS
G4TXF
G3VKV
G4NKT
G3RMD
With S2S :
M6NSV/P Neil on G/WB-004
M0TYM/P Alistair on G/WB-002
MW1HAX/P Richard on GW/SW-004
I used my phone for logging and noticed it went from 100% to zero in the 45 minutes I had it out.
I have great respect for the guys attempting much more challenging summits than this one as battery life and many other things needed to successfully carry out activations safely need to seriously be taken in to account.
Would have stayed up there a bit longer but was glad to get down out of the wind and back to the car and my lunch!
A nice easy one to start off with, I don't think I'll be doing any mountains just yet.
Just have to see if the pine seeds I collected from the cones on the way back will grow into little trees! Apparently they should go in the fridge for 3 months to fool them into thinking it is spring, but I don't think I'll have a problem with that picking them up in the middle of January!
73 all and thanks for having a look.
Rob M0VKB.