I was on Kit Hill G/DC-003 this morning to see if I could hear anything of the Lake District Activity weekend. Sadly I couldn't! I could see a few spots on 2m FM but nothing was heard down here. This wasn't a great surprise but I think it was worth the effort of trying. I had hoped to use a 45W linear PA but the unit which arrived was faulty and has been returned so I was restricted to the normal 10W.
But as I did the activation anyway here is a very short report.
I used the 10 element Yagi antenna again and despite a strong breeze at times it stayed up. I must be getting better at guying it! I have also modified the mount so it can be turned to horizontal or vertical polarisation very quickly without having to remove it. This saved a lot of time.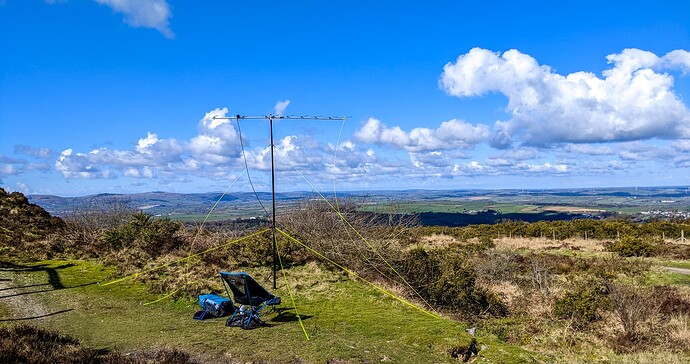 2m FM was very quiet with only Don G0RQL replying but I had more success on 2m SSB before switching to 2m FT8 and another 4 QSOs. I was on the north side of the hill to give me the best chance of reaching the LD so it was no surprise that the PSK Reporter Map showed no hits on FT8 to the south of me but I was pleased with the results to the north. Many thanks to all chasers! It was cold despite the sun but I suspect those in the Lake District were suffering more than me.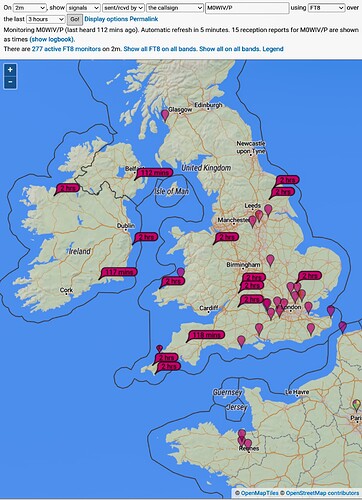 Here is the log:
10:18 G0RQL 144MHz FM Don
10:27 G4ELI 144MHz SSB Simon
10:31 G0RQL 144MHz SSB Don
10:32 M0BKV 144MHz SSB Damian
10:53 EI9KP 144MHz DATA Phil
11:04 G4OBK 144MHz DATA Phil
11:05 G0LGS 144MHz DATA Stewart
11:13 G0MOH 144MHz DATA Rob
And mapped: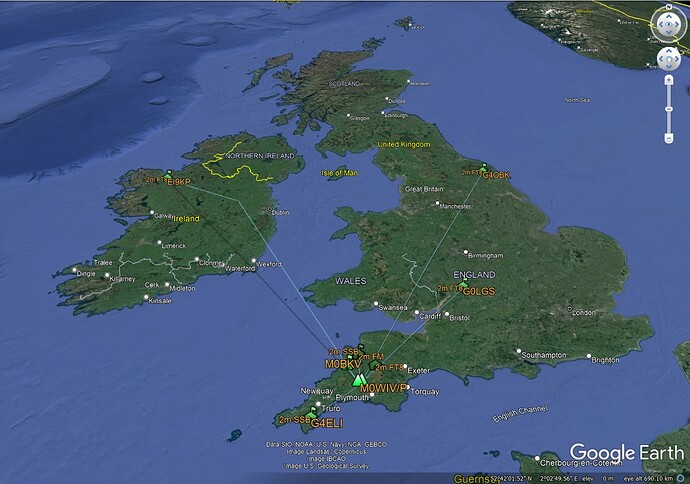 However, I'm not convinced Kit Hill is the best summit for VHF. This screenshot from the IC-705 shows repeating bands of some sort of interference every 50KHz. I couldn't hear anything but this QRM can't help. There is a mast on the summit with numerous antenna, some are for pagers apparently, I'm not sure what the others are for.