We did this hill on our way from the Blackpool Rally to a holiday cottage in Thornhill.
We parked on the verge of the minor road to the Daer Reservoir near the junction at NS972096. As we were preparing to set off, we saw the only other people we would see on our walk coming down the reservoir road which formed part of the Southern Upland Way. We set off along the reservoir road, turning left off it soon after crossing a bridge to follow the line of the Southern Upland Way on the map. In retrospect this was probably a mistake as it was quite hard going on rough ground with little sign of a path passing round the edge of a woodland and then angling uphill across a field. When we reached the wall on the other side of the field, we spotted a SUW waymark the other side of the wall which implied that the path was the other side of the wall and had been from much lower down. There was no way to cross the wall there, so we followed the wall uphill until there was a gate. The wall turned into a fence which was followed all the way to the summit.
It was a lovely day with blue skies and fluffy clouds and we had views to the Lowthers and across the Dear Reservoir to the south and west, and north to an extensive wind farm. Our ascent had been accompanied by the sound of curlews and lapwings, which were joined by skylarks at the summit. Lark accompanied activations are good! The fencepost at the summit provided a support for the VHF antenna, and the grassy top had plenty of space for the HF antenna. Caroline struggled to three VHF contacts in 20 minutes, but calling for another half hour couldn't produce a fourth, so she moved to 40m after Martyn had 12 contacts on 60m. 11 40m contacts for Caroline were followed by 3 on 80m.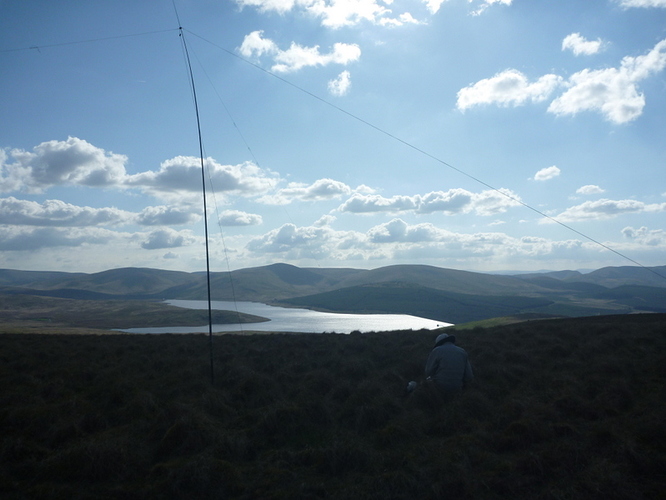 HF and Daer Reservoir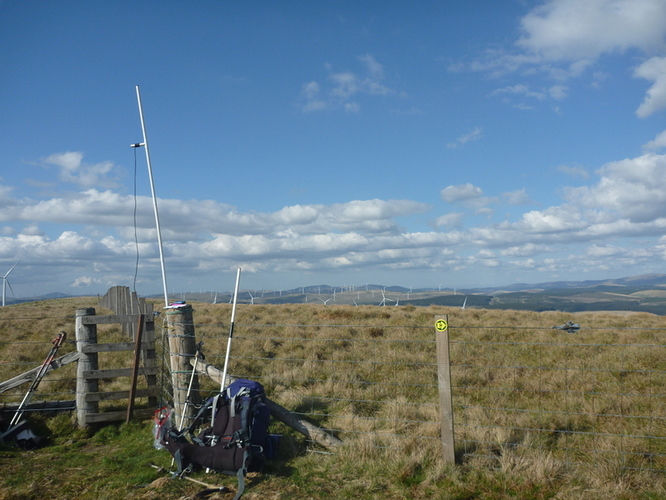 VHF and wind farm to north.
On the descent we followed the SUW waymarks which took us straight down the southern side of Sweetshaw Brae with good views of the Reservoir. It was steeper than the ascent route, but on better ground, though the final descent to the waterworks road was slightly awkward with a narrow path along a fence line. Down on the road there were more SUW waymarks, so it looks like it has been officially diverted from the mapped route. There are large works buildings, but it had an air of once having been even bigger with what looked like the remains of a children's playground.