It was a lovely morning in at our base in Sconser, but the forecast was for cloud with some rain in the middle of the day before improving later, so we decided to head for lower hills. By the time we were leaving the cottage the clouds were down and we passed through drizzly rain on our way to our first target of Ben Tianavaig GM/SI-105. The summit was still just visible under the clouds as we parked in the small rough layby by the picnic area on the edge of the pretty bay at Camustianavaig. We headed up the road to a narrow path between houses which took us out onto the open hill, through ferns. There was a bit of a path to follow as it ascended, but it faded, and we headed northwards at an angle which was quite hard going at times, until we decided to head further up to the summit ridge where we found a bit of a path and easier going. Clouds swirled around the summit as we climbed, but we had at least some hazy views.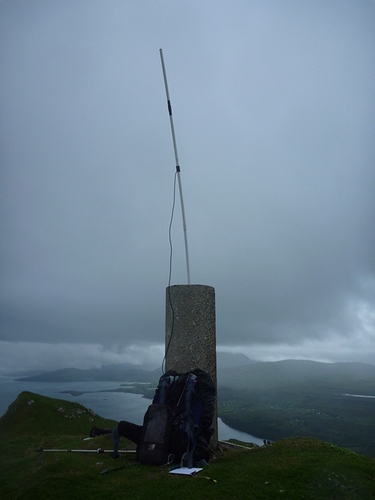 Ben Tianavaig summit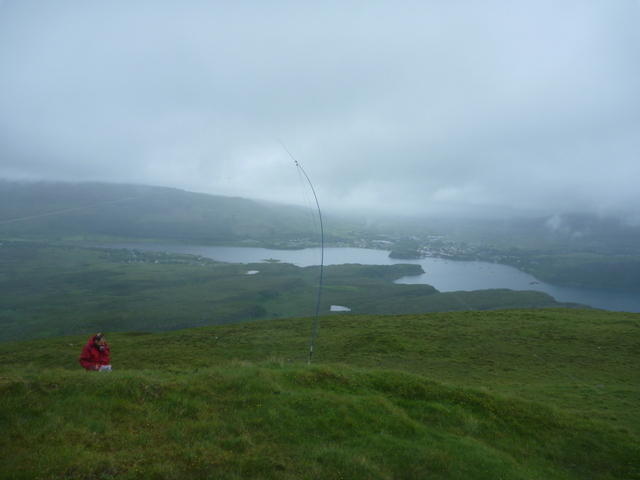 Portree Bay from Ben Tianavaig summit
The fine circular trig point had a hole in the top, which Caroline used to support the MFD. Three contacts were quickly gained for both of us but that was all on 2m FM. Meanwhile Martyn was struggling to get the HF dipole to stay standing, due to a combination of angled ground and slippery grass, and after several collapses and some help from Caroline it was about half an hour before he managed to make a QSO, but then found 5MHz poor getting only 4 contacts before passing the HF station to Caroline for her to get the hill qualified on 7MHz with 14 contacts. 10m sounded to have some life so Martyn tried it and got another 6 contacts. With lunch eaten we packed up and headed down as we wanted to do a second hill.
We were later getting to the parking for Sithean Bhealaich Chumhaing than we had hoped, and the main parking area by the bay at the start of the walk was full, but we found a rough parking area a little further west at around NG487439. We took the shore path which passed a boathouse area and continued round the headland. The clouds were now well down, limiting the views, though the rocky path required quite a lot of attention. The path came to a gate where a path went left by the wall, but we carried on along the edge rising up to a raised meadow area with a good crop of buttercups and some cows. Through the meadow we came to a fence and gate. We thought we wanted to keep on the sea side of the fence, so crossed over the gate to ascend up the valley the other side where there looked to be a bit of a path. This turned out to be a mistake as we discovered the another barbed wire fence, which was impassable, but managed to cross back over the barbed wire fence running up the valley, as we could see a stile onto the open hill on that side. When we reached that stile we discovered that it had unprotected barbed wire too. We were beginning to take a dislike to barbed wire, so carefully crossed over. We then headed north towards the summit, but by now we were in the cloud with little visibility, and it was now raining, and the combination of that and what seemed to be innumerable false summits made us feel that we would never get to the trig point, but eventually it appeared out of the mist. It was generally damp, though not raining hard.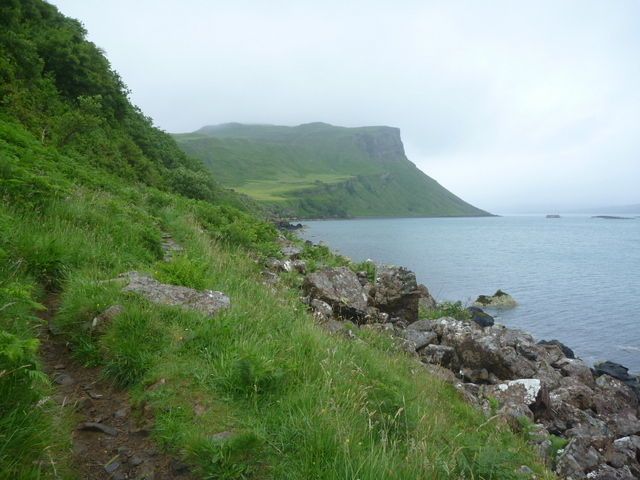 Nice coastal path on ascent Sithean Bhealaich Chumhaing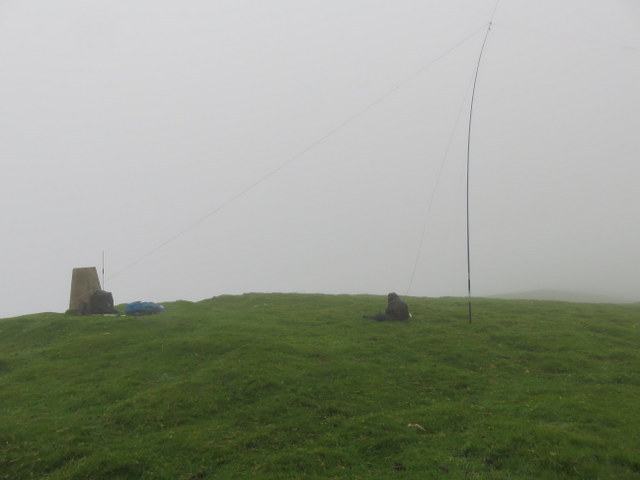 Lack of views on Sithean Bhealaich Chumhaing
Caroline's initial call on 2m FM at 18:30 yielded just one call Calum GM0EWX in Portree, who Martyn also worked. Martyn had less trouble getting the HF antenna standing up, but found 5MHz very poor managing just 2 contacts. As time was getting on we moved to 7MHz with both of us working Don G0RQL to qualify the summit for Martyn, with Caroline managing 10 contacts on 7MHz. A final call on 2m FM was picked up by Gordon GM4OAS but there was no time for other bands. The promised better weather hadn't arrived when we were on the summit, but the clouds started to lift as we descended. We initially kept closer to the cliff finding easier ground than on the ascent, and as we started to bend more westerly finally got some views of Ben Tianavaig and Raasay. When we were back at the raised meadow we took the track heading towards Toravaig to avoid the slightly awkward coastal path, and then carried on to a track and path that led back to the grounds of the hotel just above where we had parked. That hill really needed much better weather then we had!