According to what I've been copying/chasing from summits with an endfed wire, from my rental apartment with an endfed wire too and from my house in the village with a tribander yagi for 10, 15, 20 and a broadband folded dipole (inverted vee) I use for 17m, I can say I don't give a dime for transatlantic S2S on 17m. Neither on 30m during daylight times at least. In my opinion, just 20m might be in decent shape but it will surely be very hard work, particularly for QRPers.
73,
Guru
You add add the link to this thread Andy on the old thread as I know you can do this with your magical MT powers.
Jimmy M0HGY
When a link's added in the new thread a back-link automagically appears under the post linked in the old thread, so there's no need for posts at both ends.
When I program, I never use a GOTO statement. No, I always use a COMEFROM statement instead.

:Comment
VOCAP prediction looks very marginal from my possible summit in JO59tc. 40 meter was even worse, but it's still worth a try. My participation all depends on how early I can sneak away from the family party (how early they run out of cake).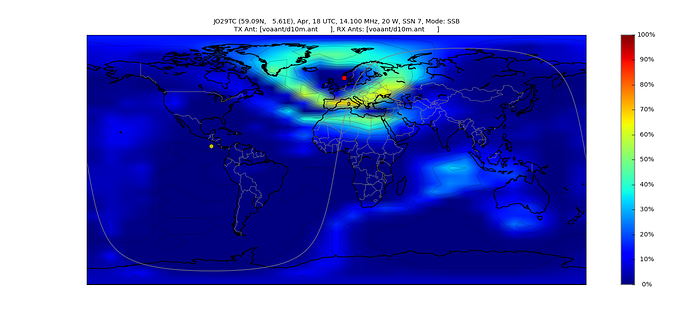 GOTO Comment
The QSO with me seems to be guaranteed on 20m. That's something…
You can help a lot on the running out of cake strategy, but it can become terrible for your afterwards hiking plans…

Yeah, any S2S will be nice. If I go it'll be late, after 16-17 UTC or so.
I could bring cake to the summit and share via SSTV… hmm
Looking at the predictions from ITURHF there appears to be two opportunities, one around 1400 and one around 1900 UTC but the 1400 one, according to the charts, only with 100w CW on 20m. (other chances are 19:00 on 20m and 20:00 on 30m).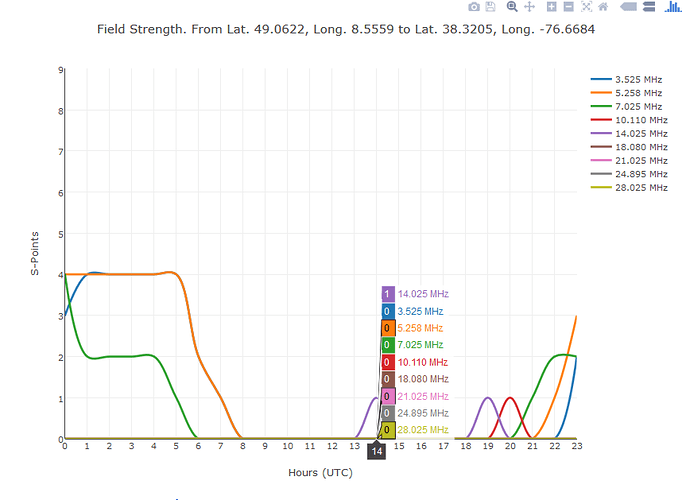 Written by a pessimist of course. Well let's see what happens. If it is no go, then we can all jump into our personal Tardis and move to Guru's location. It may get a bit crowded though, all of us being on one summit.

Keep your Tardis, I'll take a Harrier Jump-jet over a Tardis any day!
Lets see what comes - at least within EU we should be fairly safe of a few S2S contacts and within NA as well. Whether we'll make the jump across "the pond" is the open question - my prediction would be FT8 yes (if anyone is running it), CW possibly, SSB very hard - but then more of an achievement the harder the challenge is.
SFI is now over 70 and forecast to stay there for the next 3-4 days K should only be 0, 1 or 2 - so there's a chance.
73 Ed.
Dear all, I'm usually quite an optimistic guy and after having read and even written some pessimistic post about the chances for S2S this Saturday, I'm going to counterbalance all these a bit telling you about my SOTA DX chases this evening.
Following you'll see my today's chaser log. The 1st chase was from my rental apartment with about 50w and the endfed wire in the balcony during the lunch break pause.
After work, I had the chance to go to my house in the village and there, with the help of my Hy-Gain TH5-DX yagi, my TS-940S and my TL-922, plus a couple of good ears attached to both sides of my head, where my weak-signals-hunting-skilled brain lives in, I was more than pleased, rather delighted with these 4 USA activators chased.


I think, on Saturday, I'll tend to better be on air at around 17h utc, rather than 12h.
Today I also looked for USA activators spotted on 30m and 17m but I did copy nothing at all on those bands with my inverted vee dipole. Having my yagi on top of a tower on the roof of my house 15m above the ground and the very low level of noise in that QTH, now that we have more daylight (DST) and my neighbour doesn't need to switch his LED lamps ON, is indeed a big help to copy weak signals on 20m, but there's no doubt to me that 20m will be the band to be for the S2S event this Saturday.
I've just made my decision about the summit I'll activate and my alert is now updated accordingly. It's a drive-on 1 pointer summit very near my QTH and it has a great nearly 300m take-off towards NA, the North-West.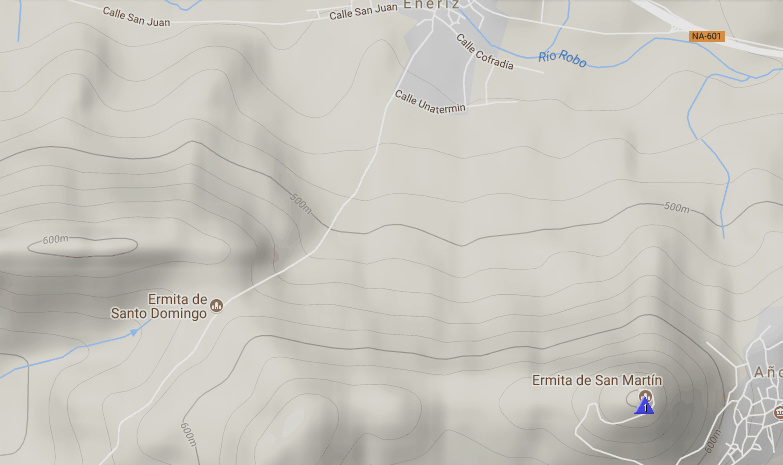 I'll be looking forward to many S2S with the American continent.
73,
Guru
My second mast arrived today, so if I can build up a second 20m vertical by Saturday I will have my parasitic reflector available. I'll need to bring my compass to get the thing set up right a d check a great circle map tonight. 15w of cw with ~3-4 db gain over a dipole if I do it right.
Yesterday's DX chases made me feel quite optimistic towards to NA<>EU S2S event of tomorrow Saturday, but today's tough propagation conditions and the difficulties I had to chase only 2 out of nearly 10 activations spotted on Sotawatch, brought me back down on the ground.
This is my today's chaser log, being the first chase made with the endfed wire in my rental apartment balcony and the other 2 DX USA made with my TH5-DX yagi in my owned house in the village.


Many other activations were spotted on 20m while I was QRV but the following were not copied at all or not copied sufficiently well as to be able to make QSO with them.
16h07 K9IR on 14.000 —> Not copied
16h19 KI4TN on 14.060 —> Copied 119 QSB disappearing (unworkable)
16h20 NE4TN on 14.061 and 14.0621 --> Copied 119 QSB disappearing (unworkable)
16h58 NJ7V on 14.0337 —> Not copied
17h03 KR7RK on 28.062 —> Not copied
17h17 KB1RJD-KB1RJC on 14.347 —> Not copied
17h22 KM4JKM on 14.343 —> Not copied
Here I left the shack and went out to work in the garden.
On my return,
18h57 K1LIZ on 14.347 —> Not copied.
After yesterday and today experience, all we can conclude is that anything might happen tomorrow, but it's sure that it worths a try.
Let's try.
Good luck tomorrow!
73,
Guru
SFI UP to 73 - K slowly going down - Hurrah!!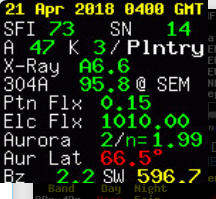 (K was 5 last night!)
Update: the K didn't drop below 3 and that along with some contest made it hard going here on both 40 & 20m - no contacts to NA from DL/AL-179 today.
I'm at work now, after leaving my summit at 1300 for said place of employment.
It was a rough morning. I had no problem reaching my summit and getting set up, although the 20m reflector was not to be. To-do list was just too long on my days off. But I had a 1/4w vertical on 20m so I listened to every spot I saw for EU stations on 20 and 40 but nothing. No US stations on summits yet either. I never saw Kevn AC2KL on 40m and was hoping he would see my spots, but either he didn't hear me or he didn't check

I called CQ pretty relentlessly. I had no contacts over the first 30 minutes plus. Finally a few contacts on 40m. Jim K2JB was first and gave me a 119, then Joe K4MD made me feel better with a 579. Everyone started slowly waking up. Bruce W2SE got me on 80m (20:1 swr before tuning via the kx3, but it worked, ish). Then the chasers finally started to wake up. I probably would have had a good run going on 20m but I had to pack up for work. NK8Q found a closed gate, otherwise he would have been my only S2S. We were only going to be 20 miles away had he been able to drive closer to the summit, but he hadn't set up in time.
At times on 20m I thought I heard faint cw at ESP level, maybe Europeans? If anyone did hear me and tried I apologize but there was no way.
By the looks of the spots it seems closer to 1400 there was some transatlantic QSOs occurring. If so congratulations to those who made it!
Evan - KN3O
Conditions were ropey for me. But the WX was stunning! Managed 1 US chaser, KA1R and about 6 EU S2S contacts.
I haven't really been keeping tabs on the reflector but I'd marked the Eu/NA day on my calendar. I'm quite busy with other projects but I couldn't really let the SOTA event slip by.
Although I didn't work across the pond, I had an awsome time! I had 11 CW Summit to Summit contacts from G/NP-028.
I heard N4EX and N1EU (/p). At one point I heard Gerald G4OIG AKA GW8CXK working N1EU.
I haven't had that much SOTA fun in a long while!
Gerald @G4OIG, please spill the beans on your equipment! I was using my MTR and 1/4 vertical with 4 radials.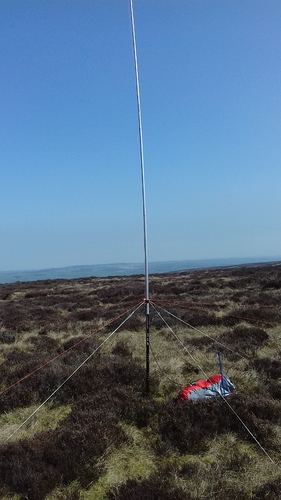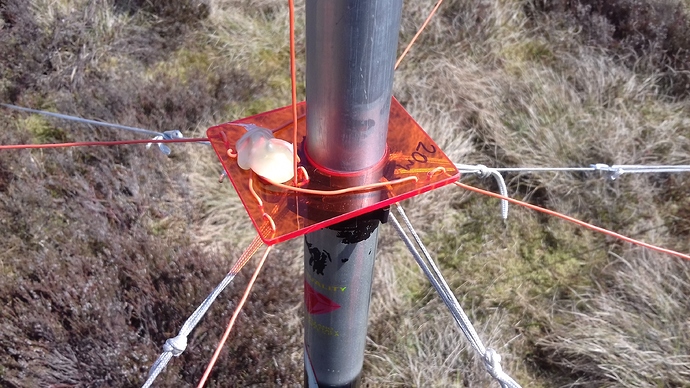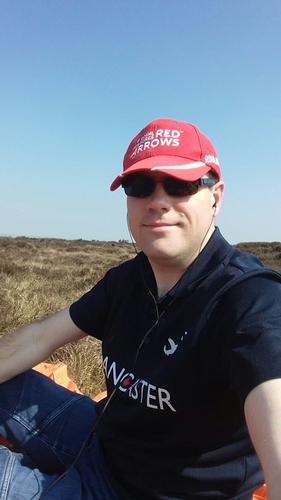 73, Colin
I think conditions were about as good as could be expected, although my sense was that they were constantly fluctuating, i.e., deep slow QSB. The big surprise was that 17M delivered the best EU signals for me, although it didn't seem many activators were using 17M. But signals were mostly quite weak and it took a little patience and good ears to make it through (with a few exceptions).
My antenna was an extended doublet fed with twisted pair feedline (from CAT5e network cable), fed through a homebrew balun into my KX3 ATU. I managed to get the antenna up fairly high, sloping from a fire tower to a tree.
I managed S2S with:
GW8CXK
HB9BIN
DL4FO
CT1DBS
LZ1GJ
on a mixture of 20M and 17M cw, some guys on both bands. I started an ssb qso with G8JSM but there was a USA net on his freq (14.300) that chased me away. I heard IW2OBX weakly on 20M but couldn't make it through. I listened for every EU cw/ssb activator on 20M/17M that was spotted.
I think this event is a great example of why every single dB makes a difference when we're doing QRP type power with marginal propagation. A single dB CAN make the difference between qso and no qso.
I was active for 3 hours - I intended to be active longer but inadvertently left all my food at home (duh).
I also worked 9 USA s2s.
Thanks for everyone's efforts at activating today!
73, Barry N1EU
Spent (for me unbelievable) 2+ hours calling CQ and searching for NA SOTA stations. Worked just one Canadian station, VE1WT, and a few European summit-goers, including Andy, MM0FMF/P.
Altogether, not a very successful SOTA expedition, but we enjoyed the weather, view and company of our friends Samir E73MM and his wife Emira.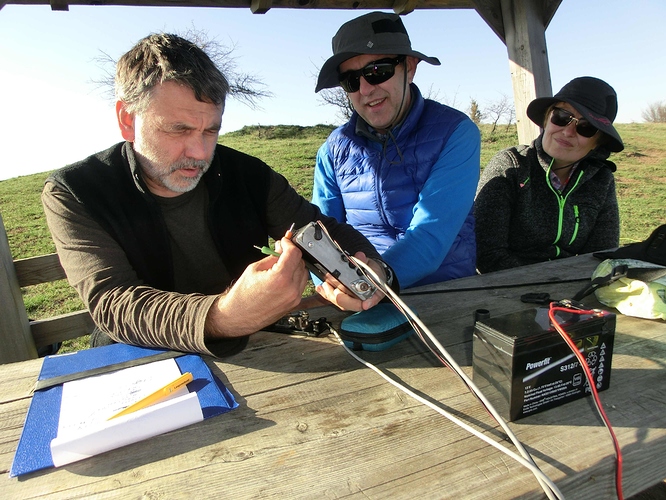 If you hear me from another summit tomorrow morning, that would mean that the mushrooms we picked up on the way home have been edible. Otherwise…