Since I married my wife in 2001 we've always spent summer holidays in Galicia, which is her birthland.
Since I bought my Yaesu FT-817 first and I met the SOTA program later, holidays in Galicia are for me better than before because now I can play radio, which is one of the things I like most.
Weather this summer hasn't been brilliant with several cloudy and rainy days, often not letting us go to the beaches… but this gave me the chance to activating SOTA instead

I managed to activate 8 different summits in the EA1 area this summer:



First activation was Monte de Ancos in EA1/CR area and I activated that day with some little rain to give a S2S QSO to my friend Jorge (EA2LU) back in Navarra on his first SOTA activation ever.
This is the set-up I had and a nice view from a panoramic spot near the top.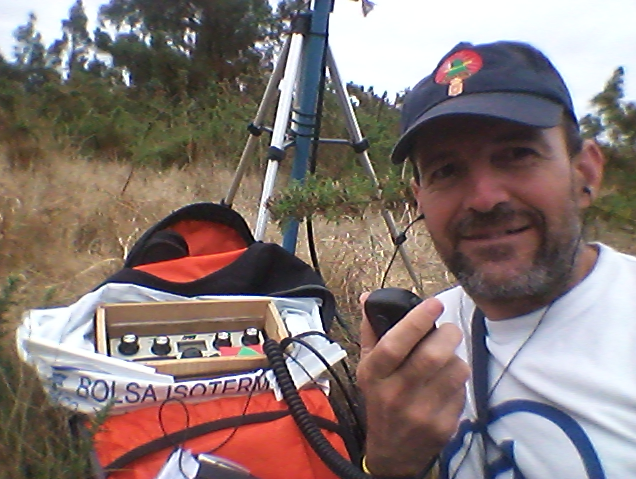 I didn't take any pictures of my second activation Mt. Lagoa, because I had little time to be there and also because I have been there several times before, even before meeting the SOTA program. This is the log of that activation.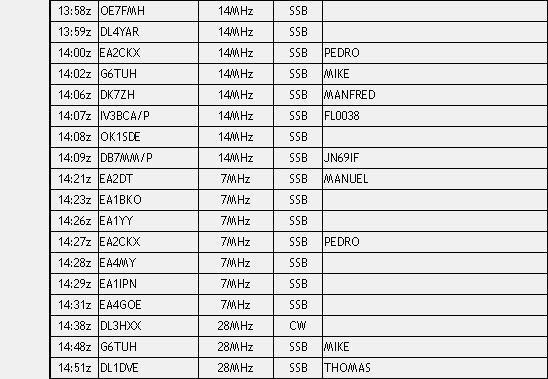 The third activation in EA1/CR was a new summit for me. I found it on SOTA map and realised that it was close to one of the beaches we usually go during our holidays there. This is a picture I took of the summit just the day before when planning the activation in a "chiringuito" at the beach.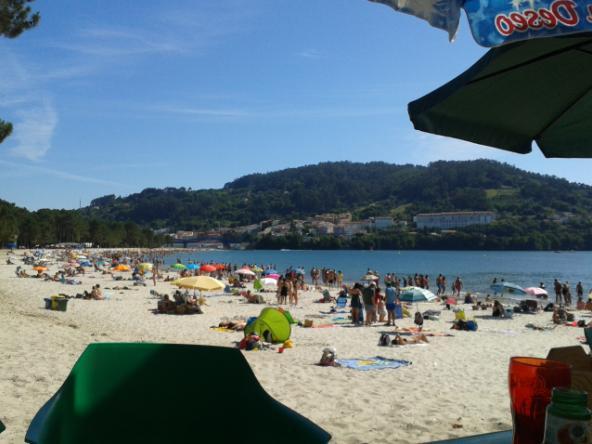 This is the set up, which didn't give very good results probably because of being surrounded by many tall trees. Also the propagation conditions didn't seem to be at its best that day.

This is a view taken on my way down:

And this is the log of the activation. I was happy for the S2S QSO on 10m with my friend Ángel M0HDF.
I also enjoyed the several calls from the hams in Coruña radioclub EA1RCO.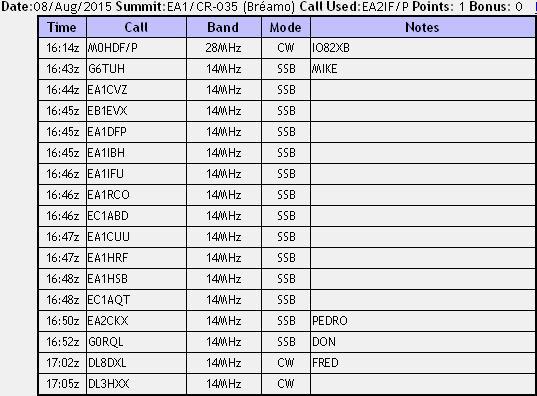 Fourth activation was Alto do Anxelio, which was another new summit for me.
My wife wanted to go to La Coruña (about 40Km from where we were staying) to visit family and I took advantage proposing her to drive her there and then activating a summit which was only 17Km from the place where I dropped my family and I would have to pick up later.
The top of the mountain was foggy so no views at all. Just this pic of my set-up on top of some big rocks I found there:

The elevated set up on top of the big rocks semed to perform well and conditions were also pretty good with several callsigns logged this time. This is the log: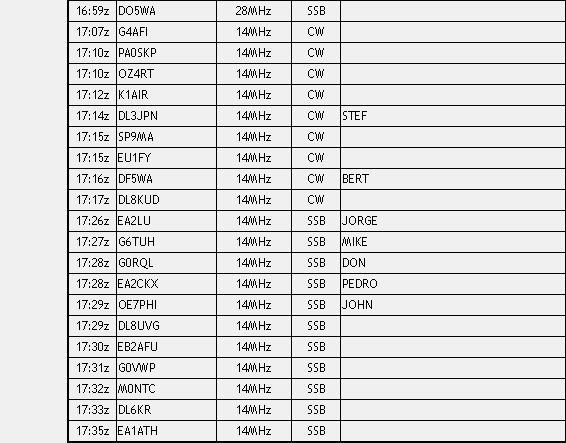 From this summit I had a chat with Miguel EA1CVZ and he told me he was very interested in joining me with his 12 year old son in some SOTA activation. I said I would contact him for the next activation and so I did.
Fifth summit was Bailadora, which I had already activated last year. Miguel and his son came with me and helped me to set up. They carefully observed all I had and everything I did, taking pictures of everything. They also listened with attention the QSOs and the operation.
Here you can see Miguel EA1CVZ watching and supporting me during the antenna set-up.

Here is Miguel EA1CVZ listening to the CW operation. We were sharing headphones.

Here you can see Miguel Jr. (EA1CVZ's son) listening to the phone operation.

This is the log of the activation:


I found another new summit for me which was not too far from where we were staying. This was my sixth activation. Its name is Mt. Fontardión and I called Miguel (EA1CVZ) for a joint activation. We were planning to do it on HF (CW and SSB) but the WX had its last word and made us change plans with lots of rain. I decided not to take my rucksack with the FT-817 inside and I just took a 2m/70cm HH instead.
It was raining all the time, so we made a quick activation on 2m FM. Due to the rain we couldn't log our contacts on paper and we recorded it with the smartphone.
These are some pictures we took at the top.

And this is the log:


After the activation we went home for a shower plus dry clothing and then we agreed to meet for a visit to the team at Coruña radioclub EA1RCO. We also played the recorded operation in order to write our respective logs down on paper. This is a picture of the nice group I met there: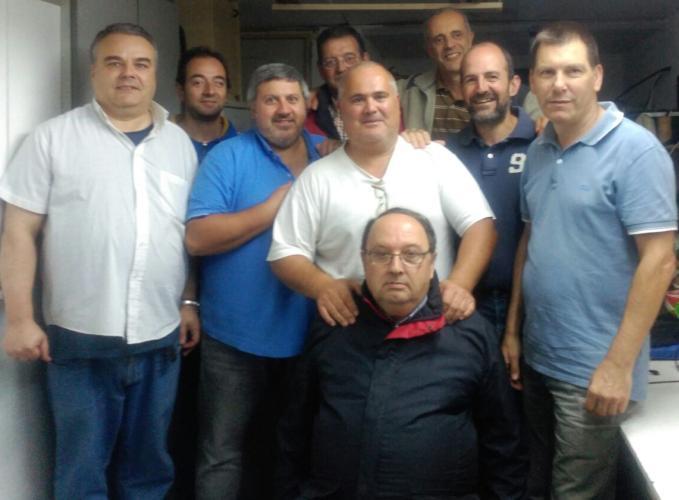 Standing in the center with a white T-shirt is Quique EA1DFP, an active SOTA chaser.
Two of the guys in the last row (EA1IFU and EC1AQT) will do a SOTA activation this Sunday August 30th. I learnt later that it was their second SOTA activation. It looks like the seed I planted in Coruña radioclub is giving the first results. I wish them good luck and encourage the others to follow the same way.
My 3 weeks holidays were going to finish soon and I planned a double activation for Sunday, August 16th while on my way back home, as I would be driving alone while my family would still remain one more week at the coast.
The targetted summits were a couple of 6 pointers near one each other, with a very good access from the highway and located in different areas EA1/LU and EA1/LE.
First one of the day and 7th activation of these holidays was Mt. Chao da Poza in EA1/LU area.
This is a picture I took of it while ascending to the second summit of the day.

There was fog and a bit of little rain at the TOP. However, it wasn't much and I decided to proceed with the activation.
This is the log of the activation:

The second of the day and eighth activation of these holidays was Monte do Curisco in EA1/LE area.
There's a road up to the very summit but I parked a bit more than 2Km before and walked on the road until I found this path which I took for the final attack to the summit:

We were almost there:

Here you can see the tall trig point which I didn't use because I decided to set up a bit further away of the big tower with antennas:

This is the log of the activation:


It's been a very nice SOTA holidays time and I want to say thank you to all the chasers and spotters. Thank you also to my wife for letting me have so much fun :-).
Best 73 de Guru.