I finally managed to get my SOTA log up to date last week and went to the activator 'Roll of Honour' where I checked that I'd put in the right hills (which I hadn't so had to delete a bit and rebuild) but noticed that my number of activations was '999' and the winter bonus (a more important statistic to me) was '747'. This couldn't be ignored so I suggested to M0JLA that we should find a suitable hill to get both figures nicely rounded.
The forecast and weather wasn't very exciting as we drove to New Radnor on Saturday and started the walk up Great Rhos (GW/MW-002 4 points) and the cloud was down at the saddle with danger notices. The valley to the right is used for ammunition testing and the danger area has recently been extended so the pleasant stroll up in just over the hour and a good take-off over the dingle is now nearly 2 hours in the thick mist with the activation site somewhere along a fence in a heathery bog on the summit plateau. I chose what I thought was the highest point and hoped that people were listening as there was no shelter from the cold wind (feeling like -5C said the forecast) and I didn''t think I would want to prolong the activation even if was the historic 1000th! I was very lucky (and grateful) that many regulars answered swiftly (2E0RYR, G0LGS, MW0XOT, MW0OFA, 2E0MDJ, G8XYJ and a surprise s2s with MW0WYP and MW7BVC on GW/SW-011 Sugar Loaf) and with the dipole lashed to the fence 8 replies were in the bag in 12 minutes. The vital 4th contact was young Alasdair MW7BVC but I think he was feeling too cold to understand my thanks! A quick QSY to 70cm (433.475 as usual) yielded 2E0RYR, G0LGS, MW0OFA, 2E0MDJ, G8XYJ in 4 minutes (you can tell I was cold!) and I was about to take down when M0JLA appeared from the mist to say Richard MW1HAX/P was on Y LLiwedd GW/NW-008 and we were eventually heard (thanks MW0OFA) and got a s2s on 2m each. It was time to leave as quickly as possible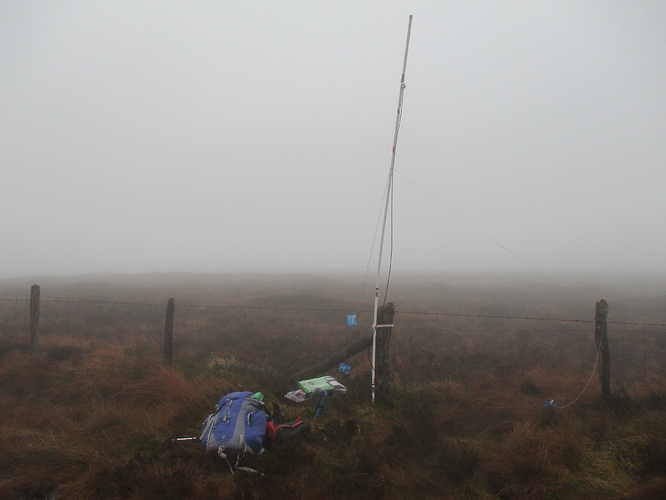 Within 1½ hours we were back at the car having come out of the cloud only about 15 mins earlier as it was much lower than before. Well that was 1000 and 750 safely gathered in - but how about starting the next… and getting that all important next 3 points? Gwaunceste (GW/MW-010) is only a short way away so, despite the predictions that the rain would start fairly soon, we drove round, grabbed our gear, went past the dogs (one days those chains will break…) and up into the cloud. Now they have cut quite a lot of heather in the SSSI it is more difficult to find the right route up to this very low and flat area but we weren't far off the trig point which I decided, for once, was the best available shelter at the time.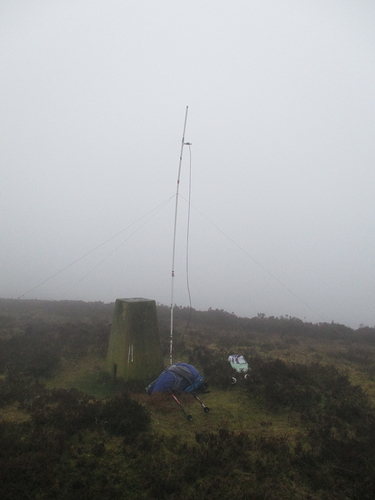 I was very pleased to discover that G0LGS, 2E0MDJ and MW0OFA were still 'on duty' and with the addition of G3VKV I qualified on both 2m and 70cm in 9 minutes (it is a notoriously difficult summit, especially on 70cm as it is flat, low and far away) then joined by M0SLJ from Halesowen on both frequencies and the mast was coming down within 20 minutes. That was the 1001th!
That is winter activating in the Welsh borders/Mid Wales area which is our home territory as, living in Hereford, we are very lucky to have a quite a choice of both 2+ point hills (qualifying for the Winter Bonus) and 1 pointers for the rest of the year. These can be repeated for SOTA each year if time and weather permits and 18 of the 2+ pointers have been visited 10 times or more. Since getting my foundation licence in December 2010 our holidays have mostly changed from hill walking to Marilyn walking with our radios. We have nearly finished GW (not sure I'll ever get up Tryfan or Y Lliwedd again - I have vertigo), and G (a couple to go for me), completed G/NI after 3 visits and have dabbled with a few small areas in Scotland but there is still plenty of scope there!
The result seems to be 1000 activations and 750 points - and I had no idea that both were going to arrive on the same hill. with the 3 point bonus this means 1000 activations of which 250 were during the winter - a quarter of them. I have always offered the tip for anyone wondering how to get enough points for Mountain Goat - find 2 pointers and go up them in winter (Dec 1 to March 15 over here) and you will get 3 'free' points. Obviously you get them for the higher hills as well but they are more significant at the lower level.
What next? The obvious target is 1000 bonus points but I think that is too distant to be likely. Looking for more uniques (Mull etc in May) and finishing G. Also enjoying going up the hills - but preferably when I can see where I'm going. Thanks to all the chasers for their help - especially for those who helped me on my 1000th - and 1001th!
Viki M6BWA