Dear all
Less than 50 % of my actual 224 activations are Swiss summits, what is not typical for our domestic HB9 community. I had seen some days ago on my SOTLAS page that the pie chart showed 99 activations in HB9 for me, so where to go for #100? I've remembered then Jürg, HB9BIN, activating last weekend on Moléson, about half way between Berne and Lake Geneva. Jürg had logged 102 QSOs, what was an incredible figure for me as an «SSB/FM only» activator.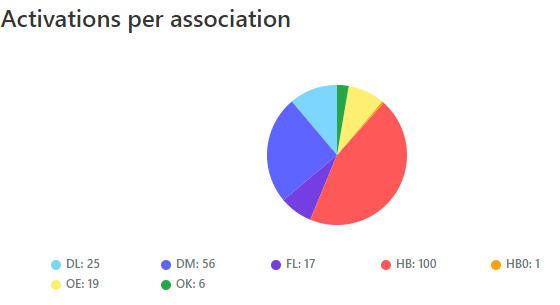 So why not do Moléson? I'd already been there, more than ten years ago, in pre-SOTA times. Moléson is a nice summit, just slightly over 2,000 meters high, so something real. It's one of these summits in the first row of the Alps, so promising good connections in all directions. And it's an easy one since there is a cable car to the summit with a restaurant and an ascent of some meters only, taking you about 7 to 10 minutes.
But one thing was a bit nasty: the journey from Lucerne to Moléson took me 4 hours one way and I had to change 7 times between several types of trains, buses, funiculars and cable cars. IT always finds a way to the summit, hi! So I recommend to take your car and to use the big car park at the bottom station of the funicular at Moléson-sur-Gruyères. The summit is a good one for the summer period since they don't/can't clear the summit trail during winter.
The summits and frequencies were very busy today. The temperatures of around 30 °C had driven the SOTA friends onto the hills. Lots of interesting S2S contacts, good signals on 10 m and finally a chaser again from the other side of the pond. Thanks to N4EX! I was busy for about 2 ½ hours.
A special guest was an electro engineer, hiking there with friends, professor at the University of Applied Sciences of Rapperswil. He was very interested in my equipment and was impressed to see the tiny KX2, the simple EFHW wire antenna and the well visible fishing pole. He took a picture of my SOTA badge to show my callsign to some fellows. They promote amateur radio among their institute to gain practice. To his further surprise, I knew a former neighbor of his friends, HB9TP sk, of Balsthal.
My «#100 special» resulted in 76 SSB contacts – never had by far that much before! A special thanks to you all, chasers and S2S counterparties, including a very special thanks to Jan in Chemnitz, DGØJBA. We know each other for many many years and it was great to hear your voice today to be a part of DIZ-#100!
Vy 73 de Markus, HB9DIZ