On looking at the weather forecast , it was decided on Friday evening between myself and Peter (M1BZJ) to head to G/SP-013 Gun for an activation on Saturday 17th Sept. Due to the nature of the summit being large, flat and an easy walk in, rather than taking lots of radios, we took lots of wire (I have about 5km of wire on rolls picked up as part of an ebay job lot). We took 2 rolls of 100m.
Peter wanted to try out his FT-891 on a summit and I took my dual band handie (just in case). We had about 170m of wire on rolls in order to construct different antena while on summit.
We decided to leave the tuner capable of top-band in the car since we thought (incorrectly) it would be fruitless during the middle of the day. Turned out MW0PJE/P on GW/NW-043 was trying top band.
Mostly used some variation on a vertical antenna - a 1/4 wave for 40m with radials which also tuned up on 15m , 1/2 wave for 20m with a 49/1 UnUn. Both worked well, and having 100W also helped. Early afternoon a 1/2wave vertical for 10m was constructed and spot was placed. The band was semi-open with quite a bit of QSB but the antenna worked well, with 3 stateside, 2 Turkish and a Brazilian in the log with 5x reports both ways.
I was impressed with the ft-891. The only downside is the lack of VHF/UHF capability. The receive audio was good and the menu system was more intuitive than the 817/857. Other than the notch filter (used once) the DSP wasn't required for any QSO. I did need to stop once on 20m while running a pile up on 20m as my voice went, sorry if anyone missed me but I needed liquid sustenance.
Later in the afternoon, I wondered about building a rhombic antenna. Why? Because we could. Unfortunately we were one pole short for the supports , but the idea is now in my head to try next year. Whilst they are not the super hi-gain antenna of legend, they do offer some advantages if you have the room. They are multiband (with the help of a tuner). On a long all-day activation, you could rotate them for the desired paths. And they sound impressive when you mention them in a QSO

We might need to practice the construction off summit to get the setup right before deploying in anger. Some method of determining the angles between the legs (whilst not super critical) would be needed.
Good to see Tom M1EYP appear on summit, who was also trying out a new antenna, but I'll let him report on that one :). Also his comment of "If I'd known you were up here, I wouldn't have come" could have been taken two ways

Fortunately, I knew how it was meant.
38 QSO in total in an odd symetry of. 19 Summit to Summit - 19 Non summit to summit over 19 DXCC. 34 on HF (various bands) SSB and 4 on 2m FM. Map below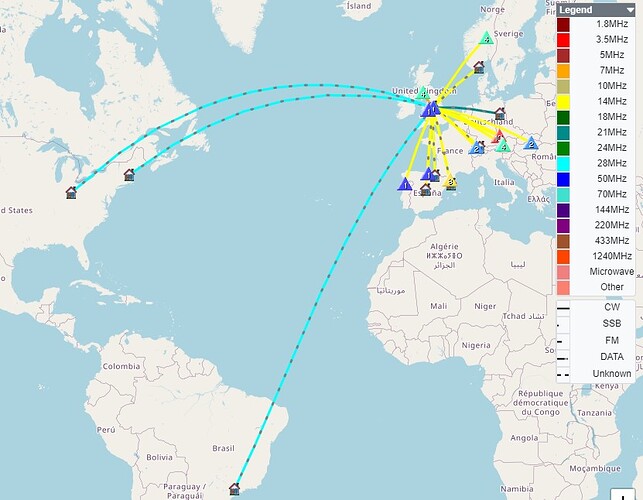 Ian