Hello everyone!
Weekend of fair weather in north Italy.
Me and my YL had decided to climb Corna Lunga, a peak not yet activated before.
Between different paths leading to the top we had chosen the most direct trail.
We went up along the summit ridge, the path was steep, sometime exposed and some section were prepared with chains.
When we arrived to the top, we rested for a while and later I installed a end fed 40-10mt.
I turned-on Iler40 and I tried to call "CQ SOTA" but I didn't manage any qso on log… I don't know if it was so because of qrm and poor propagation or because of a problem in transmittion.


At this point, I pulled the kx3 out of bag and I had been working on 20 meter.
I managed some qso with european cheser.
I also tried to call on 10mt but nothing at all.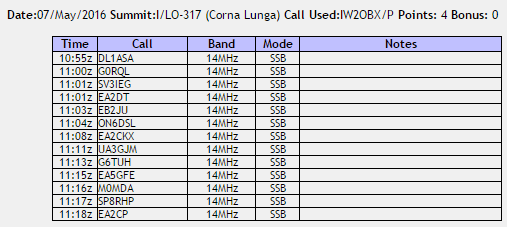 Some Photos:
Along the summit ridge

Activation:
wild peony a rarity

Thanks to all I worked and ON6DSL for spotting me
73 Roberto