Some reptiles can even threaten chasers…
Last month of June, my daughter, Eva, found this non-venomous snake in our garage.
She screamed calling me quite in panic and I descended from upstairs (probably from my shack) to see what was going on, believing my daughter had prepared some sort of joke for me.
We know now that this was a non-venomous snake, but we didn't know at first, so you can imagine the surprise and general stress, even fear at home.
I have several times watched "Wild Frank" TV programs, so I put my hat on as he always does and captured the snake

I found out its name is Rhinechis scalaris and they can be found in most of the Iberian peninsulae and the French mediterranean coast área.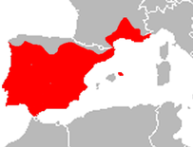 We kept it home some hours for observation inside a glass pot and I finally released it into nature far enough from home, to make sure it wouldn't come back home.
73,
Guru